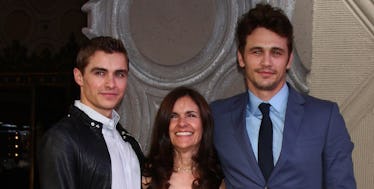 James And Dave Franco Have Another Brother, And He's Pretty F*cking Hot (Photos)
Getty Images
Ladies and gentlemen, I'm sure you're all big fans of the beautiful and extremely good-looking brothers James and Dave Franco.
Heck, I bet you even have their faces plastered on your bedroom walls (I know I do).
These brothers are not only extremely talented, but sexy as hell. I mean, just look at this.
OK, and this.
If that's got you drooling, you may want to take a seat. Thirsty humans of the world, there's a THIRD Franco brother, and he's super f*cking hot.
Say "hello" to Tom Franco, the middle child of the Franco trio. He joined the brothers for some epic Christmas photos and now our lives are complete.
Here's another Christmas action shot, so you can really take it all in. Yes, he's real. No, you're not dreaming.
Tom Franco is James and Dave's lesser known brother. He's an artist living in California. That's Tom with his mom, Betsy.
Betsy is very proud of her boys, as she should be. Holy hot damn.
Great work, Betsy. Really.
Just look at that head of hair, that chiseled jawbone, those dark almond eyes.
Yup, what a work of art. Wow.
Merry Christmas, Franco family. God bless you, gorgeous human beings.
Citations: Franco Brothers Christmas Photos (Just Jared), James Franco Instagrams Brothers (Refinery29)