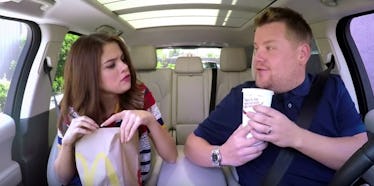 James Corden's 'Carpool Karaoke' Is Getting A Spinoff, But There's A Catch
YouTube
I love James Corden... and I love Carpool Karaoke.
So you can imagine when I heard the incredible news that Carpool Karaoke is getting its very own spinoff series, I basically FLIPPED THE HECK OUT.
Let's just hold up for a sec and reminisce on one of my favorite episodes. James Corden and Selena Gomez casually hit up McDonald's for ~fries~ and made a pit stop to go on a roller coaster.
Um, how awesome are they?!
More driving around town, crazy shenanigans going down and celebs belting out our favorite songs… bring it ON!
But along with this epic news comes a two-part catch.
First off, the new 16-episode series will stream exclusively on Apple Music. Although this will probably entice you to get an Apple Music account if you don't already have one.
The other part of the catch is James Corden will not be the one who's driving celebs around town.
I have SO many mixed emotions right now.
As a devoted fan of Carpool Karaoke AND James Corden, I can't help but feel like I'm cheating on him if I start watching this new series… While the other part of me is super curious about it.
I guess we'll have to anxiously wait until the new host is announced…
Citations: 'Carpool Karaoke' Series Coming Exclusively to Apple Music (The Hollywood Reporter)