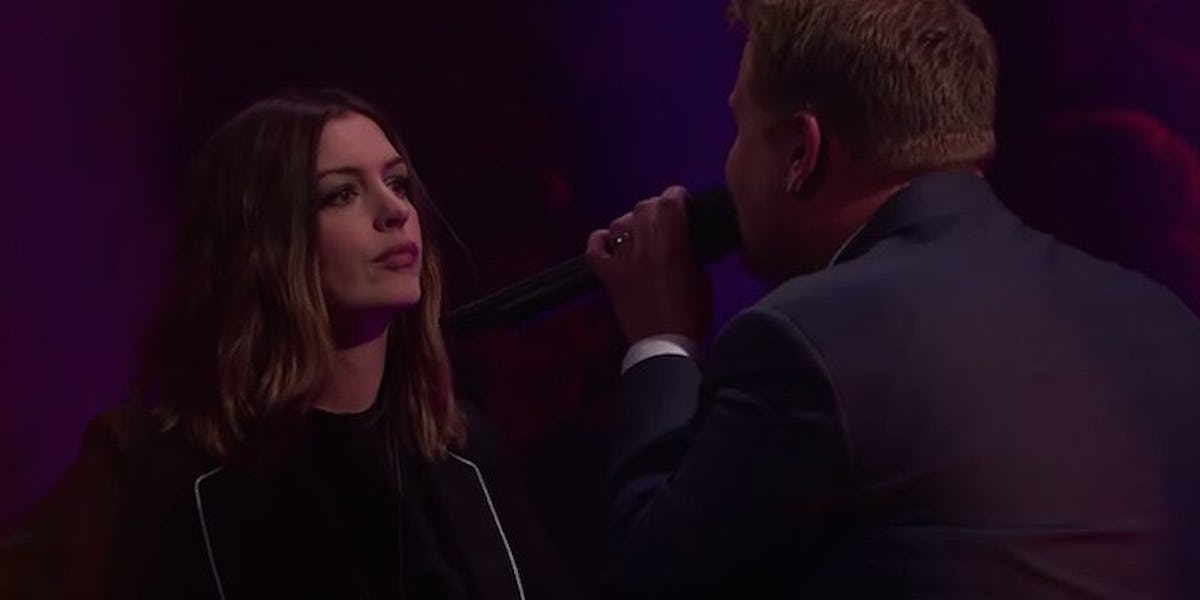 James Corden Just Slammed Anne Hathaway For Her Acting In 'Princess Diaries'
YouTube
None of us asked to hear the words "Anne" and "Hathaway" and "Rap" and "Battle" in the same sentence, and yet, here we are, living in a world where these words have come together to describe an event that occurred on national television.
On Tuesday night's episode of "The Late Late Show with James Corden," the campaign to make Anne Hathaway relatable raged on with a rap battle that pit the Academy Award winner against the late-night host.
As an Anne Hathaway purist, I, personally, don't need to see Annie rap or mug, or say, "Yo, les do this, wuhhhhhh."
I LIVE to see her publicly correct people on the spelling of her name, awkwardly try to relate to James Franco bombing at the Oscars and throw a wedding with only vegan dinner options.
These are the moments in which Anne Hathaway is her truest, most likable self. For those of you who live for the savage pandering of celebs who fall up the red carpet and swear they can't get enough junk food, though, BOY WAS THIS RAP BATTLE A REGULAR VISIT TO SEÑOR HAHA'S HOUSE OF LAUGHS!
In the segment, Corden burns Hathaway's hosting skills, her humble start in "The Princess Diaries" and her British accent before the "Alice Through the Looking Glass" actress spits a verse that's ~all love~ because she is v chill.
Watch the full video above and realize you created the environment that bred this bit.