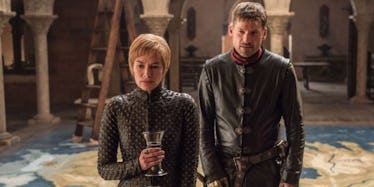 Jaime And Cersei Are Dropping Hints They Die In 'Game Of Thrones' Season 7
HBO
As every Game of Thrones fan knows, all men must die. And it sounds like Season 7 is going to be Valar Morghulis-ing all over the place, particularly in the Lannister house.
The whole GoT crew has been making the rounds in the press recently in anticipation of the Season 7 premiere in just over a week, and two actors are making some grim statements about the fate of their characters in the season.
In a recent interview with Time Magazine, Nikolaj Coster-Waldau said that he and Lena Headey (Jaime and Cersei Lannister) have gone into every past season expecting to be killed off. It hasn't happened yet, but he warned fans that we'll have to "see what happens" in Season 7.
We're all going to die eventually. We'll see what happens in Season 7, but now that you're this close... I remember speaking to Lena about this every season, we would be surprised if we survived another year, and then another year went by. It would be, 'Well next year is the one, because there's no way they're going to keep us around,' and then they did, and then last season, it was the thing where we said, 'Oh God, I hope we get to do one more season, because I'm just so curious to see what happens.'
Obviously, every actor on this show probably gets each script worrying it'll be their last, but it sounds like things are really shaping up against the Lannisters in Season 7. Lena Headey revealed earlier this week Cersei is "not having a good time" throughout the new season, and said she doesn't think her character will make it to the end of the series.
And then there's also the popular fan theory that Jaime will kill Cersei in the upcoming season, which Coster-Waldau actually admitted "absolutely makes sense" in an interview a couple months back.
And with the likes of deadly assassin Arya, powerful dragon-lord Daenerys, and seemingly unkillable Jon Snow finally making their way to King's Landing this season, things really aren't looking good for Cersei and Jaime.