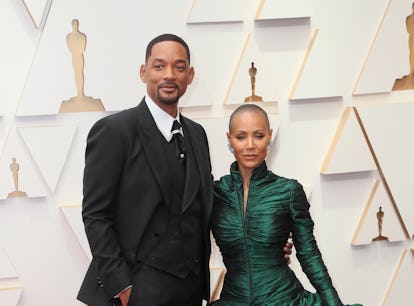 Jada Pinkett Smith Just Spoke Out Following Will Smith's Oscars Controversy
Her Instagram response is cryptic.
David Livingston/Getty Images Entertainment/Getty Images
Jada Pinkett Smith has broken her silence following Will Smith's Oscars controversy. Just two days after Will slapped Chris Rock on stage during the 2022 Oscars telecast, Jada posted a cryptic statement on Instagram. "This is a season for healing and I'm here for it," she said in a March 29 post; however, she did not directly mention the Oscars, her husband, or Rock.
Her statement comes after Will slapped Rock onstage at the Oscars after Rock made a joke at Jada's expense. While presenting an award, Rock said he was looking forward to a sequel to G.I. Jane starring Jada. This was a reference to the 1997 film, starring Demi Moore with a buzzed haircut.
The joke irked Will, as Jada revealed in 2018 she was diagnosed with alopecia, a medical condition that can cause hair loss. Jada rolled her eyes at Rock's comment before Will went on stage and slapped the comedian. Once he returned to his seat, the actor twice shouted, "Keep my wife's name out of your f*cking mouth."
Will apologized for the incident minutes later while accepting the award for Best Actor, but he did not address Rock directly until the next day in a lengthy Instagram post.
"I would like to publicly apologize to you, Chris. I was out of line and I was wrong," Smith wrote on March 28. "I am embarrassed and my actions were not indicative of the man I want to be. There is no place for violence in a world of love and kindness."
Rock reportedly declined to press charges against Smith for the incident, and he hasn't publicly responded to Will's apology or Jada's cryptic statement.