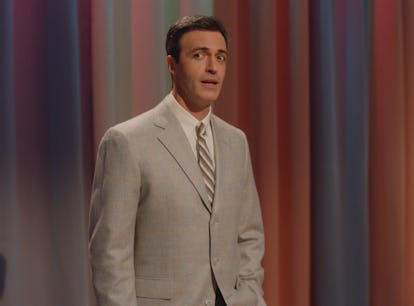 Yes, Gordon Ford From Marvelous Mrs. Maisel Is Inspired By This Real Late-Night Host
He's a big part of the final season.
Prime Video
One of the most fun parts about diving into the world of The Marvelous Mrs. Maisel is parsing the fact from the fiction. The series loves to weave historical truths into its fictional tale of Midge Maisel's rising star, especially when it comes to the important characters that pop up in her comedy career. And the show's fifth and final season has a big one: Gordon Ford. As you watch The Marvelous Mrs. Maisel Season 5, you'll probably start to wonder if Gordon Ford was a real person. While the character is a creation of the show, there are a lot of clues that he's based on Johnny Carson.
Spoiler alert: This post discusses events in the first three episodes of The Marvelous Mrs. Maisel Season 5. The late-night host Gordon Ford first appeared in Season 4, when Midge's manager Susie secured her other client Sophie Lennon a spot on his show, but he really takes center stage in the final season. At a crossroads in her comedy career, Midge managed to impress Gordon with her act, and he hired her to be a writer for his show. But of course, things got a bit messy once she actually started working at The Gordon Ford Show. At an after-hours work celebration, Gordon surprised Midge by pulling her in for a kiss, which she didn't reciprocate, but seemed to enjoy. Yeah, it's not exactly the most comfortable meet-cute to watch in this day and age, but I guess the show isn't going to concern itself with the workplace harassment of it all.
The licentious moment is actually a nod to the real-life comedy legend who inspired Gordon: Johnny Carson. Like Gordon, Carson's libertine nature was well-known. He married four times throughout his life, and his first marriage to Jody Wolcott was infamous for being full of infidelities. In 1961, the year in which Season 5 of Mrs. Maisel is set, Carson would have been in the final two years of his marriage to Wolcott. So Gordon's line to Midge about being married but "not that kind of married" after kissing her seems to be a clear nod to Carson's tumultuous love life.
Of course, there are much more substantial clues that Gordon is inspired by Carson. Most notably, Gordon's late-night rival is the very real talk show host Jack Paar, who was Carson's competition in real life. Carson took over as the host of The Tonight Show from Paar in 1962, around the time Mrs. Maisel's final season is set.
Another nod to Carson in the show is the Gordon Ford Show writers' favorite hangout: Toots Shor's. The legendary New York City bar was a well-known haunt of Carson's during his heyday.
New episodes of The Marvelous Mrs. Maisel Season 5 drop Fridays on Prime Video, with its series finale scheduled for May 26.