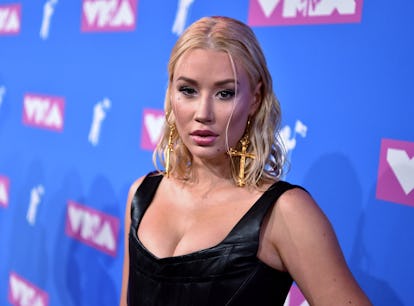 Iggy Azalea's Quotes About Fetishes & OnlyFans Are Surprising
"The amount of men that want me to tell them that they're a piece of sh*t."
Penske Media/Penske Media/Getty Images
First things first, Iggy Azalea is still the realest. On Feb. 21, the rapper appeared on the High Low With EmRata podcast to talk about, well, pretty much everything. During the conversation, the 32-year-old opened up about fetishes and OnlyFans — and she kept things blunt.
According to Azalea, she's "gotten a bit into" one fetish in particular. "Some men have interesting fetishes that you're like, 'Whoa,'" she told host Emily Ratajkowski. "The amount of men that want me to tell them that they're a piece of sh*t… and send me money for that — I kind of like it. I'm not gonna lie. I've gotten a bit into that." (Name-calling like this can be an example of a humiliation kink.)
Azalea launched her OnlyFans account in January, charging subscribers $25 per month. (Higher-paying subscribers gain access to more exclusive photos and content.) During the interview, Azalea opened up about her perspective on the site. "I made record labels so much money off my body. I made a lot of people so much money off my body, and I got the smallest cut off my own f*cking body and my own work and my own ideas," she explained. "I don't think I have to say sorry about the fact that I want to commodify my own sh*t. It's been commodified, and I wasn't even the main f*cking benefactor of it, so f*ck this."
According to the rapper, she enjoys using the platform. "I enjoy it. I'm gonna do it anyway. That's the thing... I'm gonna post pictures like that anyway because I like it. And I think they're beautiful," she added. "I like my breasts, and they're fake, and they look f*cking good, and I like them... I like my body."
It seems like the Azalea's opinion has changed drastically. In April 2021, she reportedly claimed that she would "never" join OnlyFans. Per Insider, in a since-deleted tweet, she wrote, "I think onlyfans can be really empowering for people, But I WILL NEVER, EVVVER join. I don't want to make that type of content & it only f*ck up the bag for ppl on there who really bout that life. Shoutout to the baddies tho!!!!"