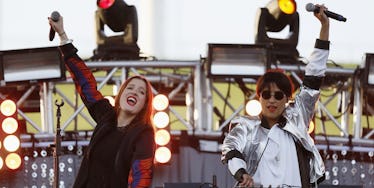 Icona Pop Just Gave Us The Best Advice On How To Make It In a Man's World
REUTERS / Danny Moloshok
In 2012, Icona Pop became the Swedish pop idols to know with their smash hit, "I Love It." The song did wonders for the female duo, Caroline Hjelt and Aino Jawo, who've been making sounds together since meeting at a party way back in 2008.
After finding the perfect name, thanks to Caroline's mother (Icona Pop translates to "pop icons" in Italian), the women set out on an unexpected adventure in music filled with highs, lows and what is now a time of rediscovery.
Elite Daily caught up with Aino and Caroline at Coachella to talk about what they've been up to, how it feels to be a female power team in the industry and what we can expect from them next.
Marking Icona Pop's first Coachella experience, the girls jumped onstage with Chicago EDM duo Louis The Child to debut their forthcoming collaboration. Of the experience, Caroline says,
It's so amazing to be here. ... It was a month ago we wrote the song with Louis The Child. ... It feels so cool that we could come here to play it and that's the way we would release it.
Further discussing the track and how it plays into the working sounds of a new Icona Pop, Caroline tells Elite, they're not afraid to take chances and experiment, saying,
We know each other so well, so we just dare to do anything when we're in the studio. ... We just have so much fun, and we try to bring in the people we feel like would add another spice to the mix.
Giving just a hint into what fans can expect from Icona Pop's overdue next release, Aino says,
[Our sound has] developed a lot, but also, you can hear a lot of the old Icona Pop. ... It's very electronic and very pop.
Beyond music making, the women of Icona Pop have more exciting things to come, including breaking into the acting world in the most Icona Pop way possible. Aino shares,
We're doing voices for trolls in a DreamWorks movie coming out ... two Scandinavian fashion trolls.
The pair's energy, connection and enthusiasm for one another is palpable while sitting on a tiny couch at Coachella.
Since meeting in 2008, Aino and Caroline have not only been making music together, but have been growing a bond far beyond that of mere coworkers.
When asked about how they've continued working so well together Caroline says,
We have such huge respect for each other. We never fight -- I think it's because we always talk. ... We don't cross the line; we don't say mean stuff to each other. We feel each other's energies. Nobody put us together and said, 'Oh, you look cute. Let's make music.' This is something we've been growing through together; we've been going through heavy stuff, amazing stuff. Now we're better friends; we've grown stronger and stronger. I think the key is that you give it a lot of time... Make sure you have the same dreams and goals because if you don't, it's gonna be tough. If you have it, go for it.
And when it comes to battling naysayers in the industry, especially men who don't take the female duo seriously, Aino says they've learned the best way to handle those situations is to stay true to themselves. She says,
We've always had each other... I remember one of the first times we met people that treated us differently because we were women. And we were always super strong together. It was like, 'OK, so we're tall and they don't want us to wear high heels.' And we'd come with higher heels.
While they continue working on their next album, set for release in early 2017, you can catch the "iconic pop" duo in their latest collaboration with Louis The Child, "ID."
Follow all of Elite Daily's adventures at Coachella (including some great celebrity sightings) on Snapchat, EliteDailySnap.