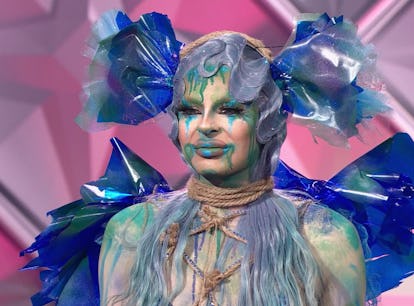 Icesis Got Real About Why She Chose To Leave Canada Vs. The World
"Pretending like I'm OK when I'm really not just got to me."
WOWPresents+
After all the unexpected drama UK vs. the World delivered, Drag Race fans knew the follow-up Canada vs. the World would also be full of chaos, and the biggest twist yet arrived in Episode 4. Halfway through the season, front-runner Icesis Couture dropped out of the race. The decision may have confused some fans who thought Icesis had her second crown in the bag, but she shared she had to put her mental health first, and her fellow queens applauded the brave decision. After the episode aired, Icesis Couture went into more detail as to why she left Canada vs. the World, breaking down the multiple factors that led to the exit.
Returning to Drag Race so soon after winning Canada's Drag Race Season 2 wasn't easy for Icesis. While at a watch party for Episode 4 at Roscoe's on Dec. 9, Icesis revealed she broke her leg shortly before entering Canada vs. the World, but showed up against doctors' orders partly because she spent approximately $70,000 on her runway package.
"I wasn't in the best mindset going in there to begin with," Icesis said. "I was on the tour and I had to leave the tour early because I ended up breaking my leg. To be completely honest, I spent like $70,000 on the show, and the doctors didn't want me to go on the show and wanted me to cancel everything. ... I just convinced myself I was going to do it and I would be OK to do it. I think that part just f*cked with me. It's really hard to pretend like you're OK when you're really not."
She went on to detail how the show's environment added to her stress. "Everyone was so amazing on that show, and everyone is so happy all the time, so me pretending like I'm OK when I'm really not just got to me. And the pressure of being on the show, the mental warfare that it takes to just literally go through the show while being secluded and I'm not allowed to talk to anybody. It was just a lot."
Icesis also added that some decisions made by production, which she couldn't get into, influenced her choice to leave as well. "There's a lot of stuff that happened with production that I don't necessarily agree with, not only with me but with other people. I just got to a point with the show where I was just like, 'I don't agree with what's happening here. I don't agree with what you guys are doing to me. I don't agree with the way that I feel. I think it's just my time to go.'"
Later in the night, Icesis shut down the possibility of returning for an all-winners season of Drag Race. "Right now, the answer is no," she said. "Not because I don't think I could do it or I'm not capable. I just think there's a lot of things that need to be changed in the way that Drag Race is produced. I just don't think it's a healthy environment, and if it's my decision to go back, then my decision is just to not engage with people who are not beneficial to my life."
New episodes of Canada vs. the World drop Fridays at 9 p.m. ET on WOW Presents Plus.