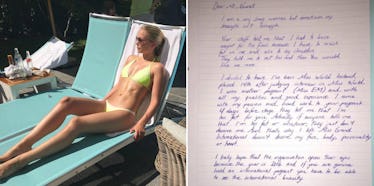 Gorgeous Beauty Queen Was Told To 'Stop Eating,' So Nothing Makes Sense
Instagram
Tuesday, the finale of the Miss Grand International beauty pageant will take place in Las Vegas, but Miss Iceland will not be in attendance.
Arna Ýr Jónsdóttir, 20, is from Reykjavik, Iceland, and up until recently, she was set to compete in the Miss Grand International finals.
That all changed, though, when the former gymnast reportedly received a letter from Nawat Itsaragrisil, Thai television host and Miss Grand International founder, informing her she was too fat and should "stop eating" if she wanted to do well in the competition.
In his cruel letter, Itsaragrisil reportedly wrote,
Stop eating breakfast, eat just salad for lunch and drink water every evening until the contest. ...[Itsaragrisil] is telling you this because he likes you and wants you to do well in this contest.
After getting the letter, Arna Ýr Jónsdóttir decided to withdraw from the competition, telling The Iceland Monitor,
If the owner of the contest really wants me to lose weight and doesn't like me the way I am, then he doesn't deserve to have me in the Top 10. Yes, my shoulders are a bit broader than the other girls' but that is because I was a member of the Icelandic national athletics team and I am proud of that. Of course, I don't take these comments to heart, but to do my best then hear this… Personally, I think I'm fine as I am.
She added,
I no longer have any interest in doing my best in this competition after receiving that message. This is definitely the last contest I shall be taking part in.
Way to go, Arna. There is no place for body-shaming in this competition or anywhere else in the world. Also, I think this Nawat Itsaragrisil guy needs to have his head examined.
I mean, Arna Ýr Jónsdóttir is absolutely gorgeous...
She's sexy AF and should easily make the top 10 of any beauty contest in the world.
Mr. Itsaragrisil, can I have a word with you?
I'm just wondering, in what world would Arna Ýr Jónsdóttir not be considered stunning?
If Miss Iceland isn't gorgeous, who is?
Nah, I want an actual answer from the founder of the Miss Grand International competition.
Can't hear you over Miss Iceland's beauty, man, you have to speak up.
You're right, it's better if you don't speak, or write letters, anymore.
This is the letter Arna Ýr Jónsdóttir sent Nawat Itsaragrisil, informing him of her decision to withdraw from the competition.
Keep doing your thing, Miss Iceland, and never let anyone tell you you're anything less than beautiful.
Citations: Miss Iceland told she's too fat for beauty pageant (New York Post)