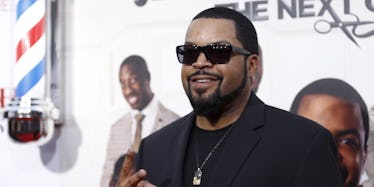 Ice Cube Dedicated His Epic Coachella Performance To Prince
REUTERS/Mario Anzuoni
On Saturday night, Ice Cube began his epic performance at Coachella with a dedication to Prince, who died on Thursday.
It was a powerful moment a lot of people clearly appreciated.
On top of this, Ice Cube brought out some surprise guests, and people absolutely lost it.
Last weekend, NWA had an incomplete reunion at the Coachella Valley Music and Arts Festival. All of the surviving members, minus a certain doctor, came together for an incredible performance.
The group from Compton, California came together again on Saturday, and this time Dr. Dre joined. People were understandably ecstatic to see this crew fully reunited at long last.
And just when people thought things couldn't get any better, another one of Compton's finest, Kendrick Lamar, got on stage alongside Ice Cube.
This was definitely a Coachella performance that will go down in history.
Watch a clip of the unforgettable reunion below.
Surprise guest on stage at @coachella with @icecube... @drdre!! #WestCoast#Coachella2016pic.twitter.com/dmzvFzOoxZ — KROQ (@kroq) April 24, 2016