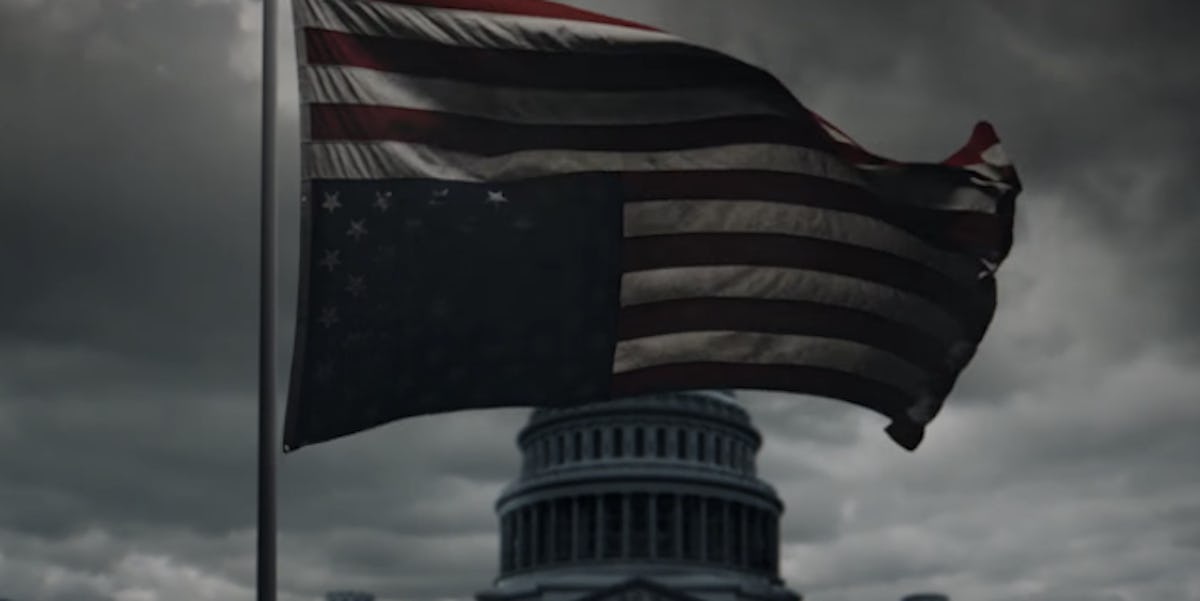 'House Of Cards' Drops Chilling Teaser Moments Before Trump's Inauguration
Netflix
In a seemingly calculated move, Netflix released an eerie teaser for the fifth season of "House of Cards" just minutes before President Donald Trump was sworn in on Capitol Hill.
The teaser video slowly zooms out to reveal an upside-down American flag in front of the Capitol Building with a chorus of children's voices reciting the Pledge of Allegiance.
In case this means nothing to you, "House of Cards" is a Netflix original starring Kevin Spacey about politician Frank Underwood, the Machiavellian antihero who used cunning tactics to deceive his way into becoming the 46th president of the United States.
Though plagued by scandal and political missteps, the politician's Southern charm and unbelievable foresight allows him to narrowly escape nearly everything unscathed – sleeping on a bed of nails, rather than one piercing nail.
Sound familiar?
His wife, Claire Underwood, played by Robin Wright, is his equal in every way.
Conniving and relentless in their quest for power and wrapped up in their own political schemes, the intelligence of the two is unmatched by any character in the world they inhabit.
And if someone comes close to uncovering their secrets, they simply MURDER THEM.
The two stars picked up a couple of Emmys for their roles as leaders of the free world, and Netflix renewed the show for a fifth season immediately after the fourth season did well.
So why release a teaser like that on the day of the inauguration?
Does anyone else find it odd that demagogue Frank Underwood used scare tactics to rally a particularly vulnerable crowd to get behind his campaign for reelection?
The fourth season of "House of Cards" featured non-coincidental similarities to the real world, with a terrorist group taking hostages and murdering them on live television.
In 2014, Senator Lindsey Graham of South Carolina said,
The only unrealistic thing about the show is that a Democrat could represent Gaffney, South Carolina.
That's quite interesting.
So perhaps the show plans to arch its fifth season around the political mayhem that took place in 2016.
It's all getting too real.