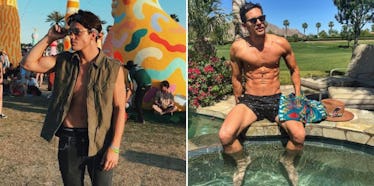 15 Hottest Guys At Coachella That Will Make You Fall Hard For Festival Season
Instagram
If you scrolled through your Instagram feed and felt hardcore Coachella FOMO this weekend, welcome to the club.
The whimsical, insanely chic outfits taking over Vestal Village made me want to jet off to the west coast and get my glitter braids game on STAT.
Don't even get me started on Kendall and Kylie Jenner's "Winter Bumbleland" rager at a Rancho Mirage, California mansion… complete with Bumble-themed cocktails, of course.
This gal over here was living in a dream world pretending she was catching rays on a Bumble-themed floatie, without a care in the world -- besides which way to rotate for best sun exposure.
And while temps were pretty hot on the East Coast, it was absolutely SCORCHING on the West Coast this past weekend — all thanks to the Coachella hotties hitting up the festival grounds.
Here are the 15 hottest guys at Coachella that will make you immediately fall in love with festival season.
This sexy model is giving out free hugs… get 'em while they're hot.
He'll just be over here straight up #ChellaChillin in the sun.
Let's take one hot second to appreciate that vest LIFE though.
Shoutout to this bro who has his priorities in line #ButFirstCoachella.
BUT also, let me take a selfie.
This guy's casually CoacHELLa hanging by the pool.
There's no denying Ethan Dolan's looking straight fire.
This guy's ready to shred up the slopes… in the Winter Bumbleland.
That palm tree tank was made for Nick Jonas, and his biceps.
Chase Hill gives the middle finger to *day 2 shit* like what's UP…
… And Joe Jonas looks oh-so fierce in his shades.
Oh Mickey, you're so fine, you're so fine you blow my mind, hey Mickey.
Oh HEY THERE, The Weeknd.
Nothing beats a black and white picture.
Shoutout to the guy on the left making the sexiest impression in his scarf.
Martin Garrix took over the stage, and looked so damn fine while doing it.
Even if you weren't originally into the festival life… you probably are now.