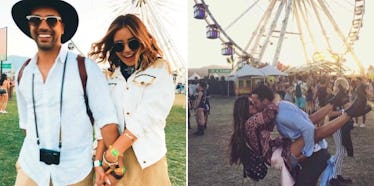 15 Hottest Couples At Coachella That Will Make You Crave A Summer Fling
Instagram
Ah, there's nothing quite like a little sultry summer lovin' to spice up the sizzling months that lie ahead.
And if you've been drooling over the hottest dudes #ChellaChillin on the festival grounds so far, you're probably even more in the mood to embrace those summer fling vibes like what's good.
Trust me, you're not alone.
For all of us who weren't lucky enough to be raging at Coachella weekend number one this year, we lived vicariously through Instagram pictures to get our festival fix.
Let me casually add in there, I pretended I was at 'Chella all damn weekend long by working my street style with off-the-shoulder tops and silver jewels.
Because, let's be real: Ridiculously hot couture owns the festival, but nothing gets us pumped for summer fun like #CoupleGoals moments in Vestal Village.
So, if you're having hardcore spring fever right now, these 15 hottest couples at Coachella will make you crave a summer fling even more than you already are.
The cool, cute and collective duo with their shades on.
Victoria's Secret model Jasmine Tookes and her main squeeze never fail to make me break out in a ridiculous smile and say, "AWE."
Seriously, though.
This couple is chic AF…
… While this duo is ready to get their festival rage on like it's their job.
It's clear love is in the air.
The festival brings on so many magical feels.
Let's hug it out to Coachella weekend one…
… Or carrot kiss it out.
But first, Selena Gomez and The Weeknd have to snap an adorable selfie.
A festival is the best kind of dreamy wonderland...
... Where anything seems possible.
The views from the top are epic.
Relax and unwind to the music.
Dip back from your hectic schedule…
… And let the romance in the air consume you.