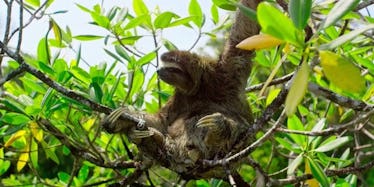 This Horny Sloth From 'Planet Earth II' Will Make You Believe In Love Again
Facebook
When people think of sloths, they probably think of laziness.
But they should see what pygmy three-toed sloths are willing to do for love.
Have you ever heard the song "I'm Gonna Be (500 Miles)" by The Proclaimers? Of course you have.
Imagine if they rewrote this song for a creature who is willing to swim (instead of walk) pretty much any distance for the sake of finding love.
This is exactly what a hopelessly romantic (and extremely horny) pygmy three-toed sloth does in a clip from "Planet Earth II."
This sloth heard a female's call across the water and sprang into action. Even animals respond to booty calls.
Look at him go!
There are only a few hundred pygmy three-toed sloths left in existence, so this sloth has to go to whatever lengths are necessary to find a mate.
The sloth spots a female sloth in a tree. Is it the one he's searching for? He starts climbing. Nothing will stop him from getting to "the one."
Stab me in the heart, why don't ya. She's already got a baby sloth, which means she won't mate for another six months (but at least the baby is pretty damn cute).
The sloth looks completely dejected. It's hard not to feel for the guy. The sting of rejection is painful (we've all been there). Poor fella.
But, wait, he hears another female sloth in the distance. There is still hope! He looks up, realizing there are still plenty of fish (sloths) in the sea.
Sometimes, when life (or love) knocks you down, you just got keep on trucking (swimming). This is true whether you're a sloth or a human.
We've got more in common with pygmy three-toed sloths than you might realize.
Watch the full clip of this sloth's search for love from "Planet Earth II" below.