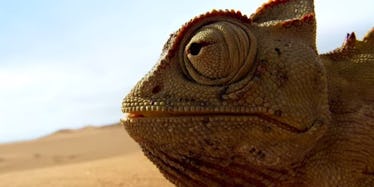 A New 'Planet Earth' Trailer Is Here, And Stoners Have Never Been More Stoked
YouTube
Don't call it a comeback. Our beloved "Planet Earth" series is back, baby... and it might just be better than ever.
According to Motherboard, it's unclear when "Planet Earth II" will make its television debut. But the folks at BBC say it's apparently happening pretty soon.
DON'T FUCKING LIE TO US, BBC!
We're talking new locations, habitats and creatures, all narrated by the one and only Sir David Attenborough. Seriously, though: That guy could literally read "TV Guide" to me, and I'd STILL cry and shake uncontrollably.
I mean, just check out the trailer for this bad boy. Are you crying yet, stoners? I know you are.
It's OK.
Honestly, you don't even need to smoke weed to enjoy the cultural phenomenon that is "Planet Earth." Although, rolling one up and letting yourself get lost with David Attenborough is definitely a great way to maximize the viewing experience.
According to Motherboard, "Planet Earth II" will initially have six new episodes that will showcase different habitats on earth and different animals living in urban environments.
It reportedly took four years to film the latest installment of "Planet Earth." Camera crews recorded in over 64 countries.
Aerial drones were used, people. THIS IS NOT A DRILL.
As you can see in the trailer above, "Planet Earth II" has bugs coming out of the ground, plants growing out of the darkness, bats flying around and a GODDAMN KOMODO DRAGON.
OMG. THIS SHIT IS GOING TO BE SO LIT.
How about that little teaser from Attenborough at the end, though?
"Coming soon." We see you, playa.
Smoking blunts and/or ripping the bong and watching "Planet Earth" was a way of life for me back in college. So, I'm getting all emotional just thinking about trying to recreate that experience.
2016 hasn't been the greatest year, but this news is exactly the kind of uplifting thing we all needed.
Citations: Start Rolling Your Blunts: 'Planet Earth' Is Back for Round Two (Motherboard)