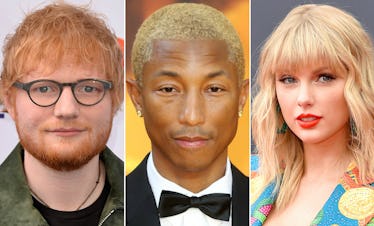 27 Hit Songs That Were Actually Written By Other Major Artists
You'll be surprised who wrote some of your faves' biggest hits.
Jeff Spicer/Chris Jackson/Jamie McCarthy/Getty Images
How many times have you been listening to a song, thinking it was written by that singer, then your world gets rocked when you learn it was written by some entirely different artist? Well, spoiler alert: A lot of singers don't write their own songs. Shocking, I know. It's almost as if songwriting is a completely separate skill from singing! There are some truly shocking hit songs that were written by other artists when you take a look through songwriting history, though.
For example, did you know Whitney Houston's "I Will Always Love You" isn't an original Whitney Houston song? I feel like this one is pretty well known at this point, but there are still those who don't know that Houston's arguably most iconic song is actually a cover of a song of the same name by Dolly Parton. Yup, "I Will Always Love You" was originally a country love song.
Singers not writing their own music (especially in the pop genre) is actually really common. And frequently enough, songwriters end up becoming famous singers in their own right once they get to a point where they no longer want to simply sell the songs they write. But it is one hell of a lucrative line of work once you start making money off selling your tracks to big-name artists.
Here are 27 hugely popular songs that were written by other famous artists:
This article was originally published on