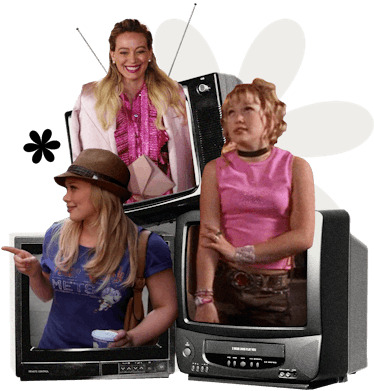 Hilary Duff's Best TV Outfits Are What My Style Dreams Made Of
Though some looks are "So Yesterday," they remain favorites.
Disney +, Paramount +, and HBO Max
Hilary Duff has been gracing our TV screens for more than two decades, from her tween years on Lizzie McGuire, to Gossip Girl, Younger, and 2022's How I Met Your Father, which has already been renewed for Season 2. Basically, she's an icon at this point. As a longtime fan, I keep a camera roll of Duff's best TV outfits in my brain, from the 2000s nostalgia of clashing prints and butterfly clips to the enviable millennial-cool vibe she now sports.
For many viewers, tracking Duff's onscreen style evolution is like watching their own. Case in point: "I used to love to go to Forever 21 and spend an hour and a half there and fill a cart with everything," Cathryn Wagner, one of Lizzie McGuire's costume designers, told Nylon of the show's adolescent outfits. (Sounds familiar, right?) Meanwhile, Duff has noted how her characters' style choices reflect their growth, like when she said Kelsey's style became "sophisticated" in Younger Season 4 (which, spoiler alert, contributed to many of the rankings on this list).
In honor of her evolving style, allow me to revisit Duff's best TV outfits, ranked from fierce to the absolute greatest.
Bonus Look: The Lizzie McGuire Reboot
From the few glimpses at the now-canceled Lizzie McGuire reboot, it was evident Duff was ready to bring her A game. An example? The yellow trench coat she was photographed in while shooting a scene in New York City's Washington Square Park. This outfit makes me wistful for the looks that could have been as Lizzie explores her thirties. Maybe one day I'll finally see how Lizzie's style evolves — and whether it'll continue to inspire my closet.