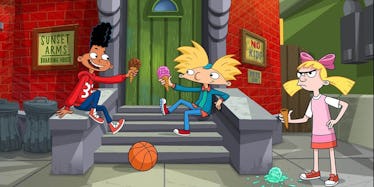 These Pics Show What The 'Hey Arnold!' Cast Will Look Like In The New Movie
Nickelodeon
It's been several years since fresh new episodes of "Hey Arnold!" aired on Nickelodeon from 1996 to 2004. If you weren't an avid "Hey Arnold!" viewer growing up, you missed out on a ton of cartoon awesomeness.
Here's an old clip to fuel your nostalgia.
Don't worry, wipe your tears away, because a new "Hey Arnold!" movie is in the works and we've finally been given a better look at who the main characters in the movie will be.
If you know anything about the classic cartoon series, you know that "Hey Arnold!" features an endless amount of fun cartoon characters that never get old. From Harold the bully to Stinky Peterson, creator Craig Bartlett's greatest contribution to society features endless characters fit for main movie roles.
According to E! News, the "Hey Arnold!" cartoon series will be turned into a movie called "Hey Arnold!: The Jungle Movie" due out sometime in 2017.
The main characters in the movie will be Arnold (obviously), Gerald, Grandpa Phil, Helga Pataki, Phoebe Heyerdahl and Abner the pig.
The news comes just after Craig Bartlett's appearance on the San Diego Comic-Con panel celebrating 25 years of NickToons, where the show creator announced the new movie.
Here's a tweet from the event.
Now, keep in mind, it'll be 2017 when this movie finally comes out. Did you really expect these characters to be sporting the same clothing after all these years?
Each character was given a slight upgrade to their wardrobe for the new movie. Gerald's got a new hoodie on. Arnold's sporting a stylish Jacket.
Here's a better look at the lineup.
And now with color...
The original voice actors from our childhoods will also be regrouping to make the movie as epic as possible.
The report states,
Some of the original voice actors will be returning with Francesca Marie Smith as Helga, Anndi McAfee as Phoebe, Dan Castellaneta as Grandpa and Tress MacNeille as Grandma among those reprising roles. Mason Vale Cotton will take on the role of Arnold and Benjamin "L'il P-Nut" Flores Jr.
So what else is in store? Let's just say if you've ever had a question about anything related to "Hey, Arnold!" it'll likely be answered in this epic movie.
Bartlett revealed,
I cant't give away too much information, and I don't want to spoil anything, but literally every question I've ever been asked will be answered.
As of now, there is no set release date for the movie, but Polygon is reporting "Hey Arnold!: The Jungle Movie" will air on Thanksgiving of next year.
Citations: Nickelodeon Reveals New Hey Arnold! Character Designs for The Jungle Movie (E! News)