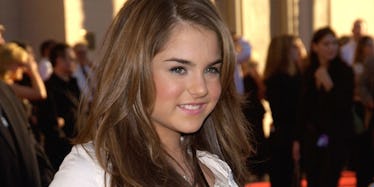 Here's What 'Too Little Too Late' Singer JoJo Looks Like Now
Shutterstock
Hold up while I rewind to a typical middle school weekend chilling with my girls.
Distressed denim skirts paired with leggings and fitted polo shirts were rocked by all in the squad with so much coolness it, honestly, hurt.
(Side note: Looking back on this, WTF were we THINKING with this fashion faux pas of an outfit?!)
We touched up our Lip Smacker vanilla gloss like it was our freaking job while shamelessly belting out JoJo…
"It's just too little too late A little too wrong And I can't wait But you know all the right things to say (You know it's just too little too late)."
Heck yeah, those were the DAYS — and JoJo made them even better with her epic hits.
Since "Too Little Too Late" blew up the music scene, JoJo has changed a ton.
She gives us major hair envy…
…And her makeup never fails to be ~flawless~ on her Instagram feed.
Can we just talk about how fierce her eyelashes are!? What kind of mascara do you use, girl?!
She's totally about that mirror selfie life. We can relate, Jo.
Major props to her for looking super chic in this all-white ensemble…
…And giving off sleek vibes in this all-black outfit. I'd totally be down to browse your fashionable closet, JoJo… just LMK when.
As far as her music career is concerned, JoJo just released a new hit called "Fuck Apologies" with Wiz Khalifa.
Her new single is straight FIRE, and needs to get in your life ASAP.
Citations: JoJo Drops New Song, "F*ck Apologies" and Announces New Album (Teen Vogue)