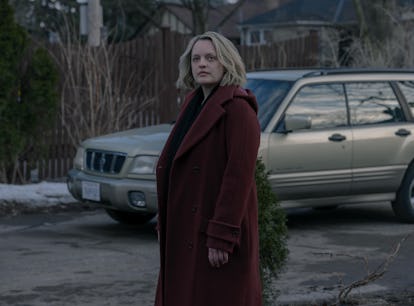 7 The Handmaid's Tale Season 5 Theories
There is so much that could happen.
Sophie Giraud/Hulu
It had been nearly two years since The Handmaid's Tale was on the air when Season 4 premiered. But the wait was worth it. Season 4 brought brand-new, shocking twists, like June's escape to Canada, Aunt Lydia's struggle to stay relevant in Gilead, and Serena Joy's pregnancy. But the finale changed the game yet again, with June having made a decision that could blow up her new life. These The Handmaid's Tale Season 5 theories try to consider all the angles heading into the next season.
Warning: Spoilers for The Handmaid's Tale Season 4, Episode 10 finale follow.
Good news, everyone: Fred is dead. Fans knew from Episode 9 that June hadn't taken the former Commander's decision to turn informant against Gilead (in exchange for his freedom in Canada) well. But even so, she tried to make peace with it for the sake of her family. A good mother should be able to move on, she said. So, she would close the door on this horrific chapter of her life and try not to let that man live rent-free in her head for one more second.
But she couldn't do it.
Fans saw June make up her mind when Fred apologized to her, saying he regretted how tough her life had been in Gilead. Something in June's eyes changed at that moment, as if hearing him say it made her realize that he had indeed understood what he was doing was not just wrong but utterly depraved, and he did it anyway.
From that moment on, it was only a matter of how and when revenge would be served. The only genuinely shocking thing was that it was done appropriately and by the right people. First, Lawrence made a deal with the Canadian government that Gilead would hand over imprisoned women in exchange for Waterford. Once across the border, Nick took Fred into the custody of the Eyes, and from there he was handed over to a dozen former Handmaids who, led by June, chased down the rapist in the woods, murdering him with their bare hands, just like Aunt Lydia taught them.
So, what now? Here's what could happen next season:
The Handmaid's Tale Season 5 is expected to debut sometime in 2022. Seasons 1 through 4 are available now on Hulu.