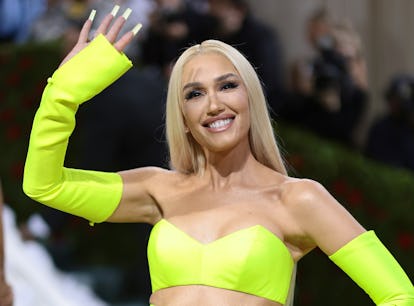 Uh, Gwen Stefani Said She's Japanese In This Viral Interview
Dimitrios Kambouris/Getty Images Entertainment/Getty Images
Gwen Stefani has always openly cherished her 2004 album, Love. Angel. Music. Baby. Not so much for the kitschy tunes, but rather the album's visual marketing that borrowed from Tokyo's Harajuku fashion district. To Stefani, this era — which has been justly labeled as culture appropriation — was a love letter to a subculture she admired, and it seems her fondness has elevated to a new problematic level. In a recent interview with Allure, the singer defended her Harajuku era by claiming she's Japanese.
On Jan. 10, Stefani spoke with Allure writer and senior editor Jesa Marie Calaor about her latest beauty venture, GXVE Beauty. In the article, Calaor noted her new line (which features vegan lipsticks, shadow palettes, and gel eyeliners) isn't Stefani's first beauty brand. She called back on the singer's 2008 Harajuku Lovers fragrance collection, which was largely inspired by her "Harajuku Girls," a group of Japanese and Japanese-American dancers she traveled with during her Love. Angel. Music. Baby era.
In recent years, Stefani's Harajuku era has been criticized for fetishizing Asian aesthetics. However, the singer has never viewed her actions as harmful, and it seems she still stands on that notion. When Calaor asked Stefani what she learned from her Harajuku brand, she defended the collection by revealing her father introduced her to Japanese culture. According to Stefani, he worked at Yamaha for 18 years and frequently traveled between California and Japan.
"That was my Japanese influence," Stefani said in the interview. "And that was a culture that was so rich with tradition, yet so futuristic [with] so much attention to art and detail and discipline and it was fascinating to me."
The singer then told Calaor (who is Asian American) she traveled to Harajuku as an adult. There, she noticed just how much she "identified" with the culture. "I said, 'My God, I'm Japanese and I didn't know it.' I am, you know," Stefani said, despite the fact she's Italian American.
She doubled down on her jarring stance, referring to herself as a "super fan" and that "it should be okay to be inspired by other cultures because if we're not allowed then that's dividing people, right?"
Calaour noted how stunned she was by Stefani's words. Though Calaour doesn't believe Stefani was trying to be "malicious" with her statements, it's clear her words still hold an immeasurable weight of harm. In the piece, Allure reportedly asked Stefani's team for an on-the-record comment to clear up her remarks; however, they declined to provide a statement.
Allure also included a definition of the difference between cultural appropriation and appreciation, which has to do with commodification and an unequal power relationship. As Calaour writes, Stefani has commodified Japanese culture by using their visual appeal to sell music, clothing lines (her 2011 Harajuku Mini children's clothing brand at Target and L.A.M.B. fashion line were named after her album), and her aforementioned fragrance collection.
Though Stefani has donated to Japanese charities in the past, Calaor pointed out the singer's glaring silence regarding the rise in hate crimes against Asian Americans in the last few years. "I envy anyone who can claim to be part of this vibrant, creative community but avoid the part of the narrative that can be painful or scary," Calaor wrote.
It's clear the line between cultural appropriation and cultural appreciation is blurred for Stefani. There's one thing to be a fan of a culture; however, once you start claiming that said culture as part of your bloodline and marketing its aesthetics for financial gain, then it becomes concerning.