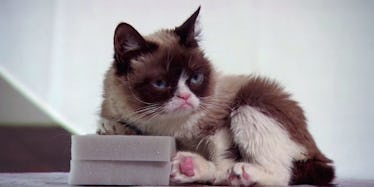 Grumpy Cat Is Getting Her Own Wax Figure, And She's Not Happy About It (Video)
You know you've made it when Madame Tussauds turns you into a creepy, immortal wax statue.
And on that front, Grumpy Cat has really and truly made it. Later this year, the perpetually pissed puss will join the ranks of Kim Kardashian West, Nicki Minaj and Miley Cyrus, becoming the first cat to be honored in wax (not that she cares).
According to Business Wire, Grumpy Cat's statue will be an "animatronic figure" that can actually move.
The wax cat will reportedly be programmed with five different positions (including, I hope, giving the finger) and will spend the first several months of her existence touring Madame Tussauds' six US locations, starting in San Francisco.
This is the latest in a string of Grumpy Cat-themed ventures, including a book and a feature film, which earned her owner more than $100 million over the past few years.
Check out the video below for a behind-the-scenes look at how Grumpy's wax figure was made, and head to Madame Tussauds to find out when the robot cat will be coming your way.
Citations: Grumpy Cat Is the First Feline to Get a Wax Statue From Madame Tussauds (Complex)