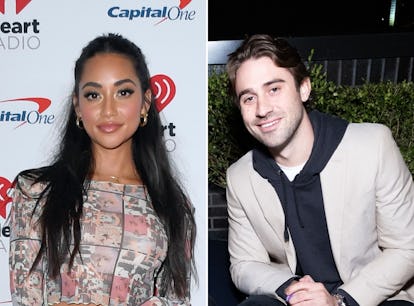 Victoria & Greg Finally Addressed All The Dating Rumors On BIP's Finale
Mindy Small/Getty Images Entertainment/Getty Images / Hatnim Lee/Getty Images Entertainment/Getty Images
Well, Bachelor Nation officially has a new — and very unexpected — couple. Although Victoria Fuller and Johnny DePhillipo hit it off on Bachelor In Paradise, their connection didn't last. A month after the show wrapped filming in late June, Fuller and DePhillipo called it quits. Since then, she's been spotted getting closer to another member of Bachelor Nation: Greg Grippo. So, are Grippo and Fuller dating? They finally addressed the rumors during BIP's reunion finale.
"Greg and I are together," Fuller confirmed to Jesse Palmer, before saying she "absolutely [did] not" cheat on Johnny. She explained the timeline (aka, how she could be so happy with someone new seemingly so soon after her breakup), "[The split with DePhillipo] was five months ago. I'm excited in my new relationship," she explained.
When Grippo came on stage, he clarified things further. "We've been friends for awhile. We met last year through mutual friends," he told Jesse. Apparently, weeks after BIP ended, they "ended up rekindling and trying it out." Because they couldn't get a casual drink in the States without swarms of Bachelor Nation fans spotting them, they took their romance to Italy, where they got matching "Ciao" tattoos to commemorate their date.
As for the critics? While Grippo acknowledged that it was "not the best look in the world," for them to get together seemingly so quickly after Paradise, they weren't too hung up on what other people think. Fuller explained, "At the end of the day, no one has to understand it or get it. Everyone can hate us if they f*cking want and I don't give two sh*ts cause I have this [guy]."
OK, so a little background on the rumors that first got Bachelor Nation sweating: On Nov. 6, Nick Viall posted a telling TikTok for anyone invested in Grippo and Victoria's maybe-romance. The video — which featured appearances by several members of Bachelor Nation, including Serena Pitt, Joe Amabile, Grippo, and Fuller — seemed to confirm the latter's relationship status. In the clip, the two were seated next to each other, and Fuller had her arm resting on Grippo's shoulder. As if that wasn't clear enough, she leaned in to kiss him on the cheek, too. Viall captioned the video, "Game night had all the drama." Later, he commented on the post, "Soft launch."
This wasn't the first time Grippo and Fuller have sparked speculation. On Nov. 1, Instagram account @bachelornation.scoop shared a screenshot of Grippo's comment on Fuller's Instagram, per Us Weekly. Earlier that day, Fuller posted a video of her sporting a black gown with the caption, "go on and put on that dress that all the bad boys like 🖤." Grippo responded to the video, "Good girl." 👀 Though he deleted the comment, it will forever live on in screenshots.
Although there's a lot fans still don't know about Grippo and Fuller's connection (yes, even after their "After The Final Rose" interview), it does seem pretty serious — at least, serious enough for a European vacation and matching tats. As mentioned during the reunion, they've already taken their first couple's trip together. Of course, most fans already knew as much. On Oct. 24, the duo was spotted together in Rome, Italy. Then, on Oct. 26, they were photographed together again — this time, at the airport. Despite the fact that Fuller was still on BIP at the time, it didn't seem like producers were too worried about giving anything away. Per Us Weekly, when TikToker ZacharyReality tweeted about the sitch, show creator Mike Fleiss didn't try to hide the Grippo and Fuller rumors.
"Someone told me it's possible the producers sent VF & GG to Italy on purpose to make a scandal so viewers are interested come reunion time," ZacharyReality tweeted on Oct. 27. Fleiss quote-retweeted the rumor, adding, "That's absurd!"
On Oct. 29, Fuller seemingly addressed the speculation in a video posted to Instagram. "Thank you for all of the support this week," she told her followers. After @bachelornation.scoop reposted the clip, hinting at the Grippo rumors, Fuller replied, "Mind ya damn business."
Well, now that they're reunion-special official, I guess the time for minding your own business has passed?
This article was originally published on