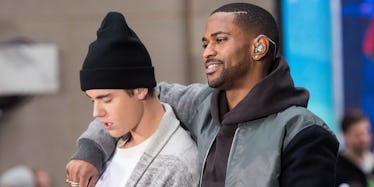 The Best-Dressed Men At The Grammys Will Make You Want To Dump Your BF
Getty Images
Let's face it; the red carpet is run by women.  The Grammys are no different.
Everyone wants to know who Taylor Swift, Selena Gomez and Tori Kelly are wearing.
Fashion bloggers around the world are clambering to find out what the hottest looks for spring 2016 will be (hint: jewel tones).
But we want to take a moment and appreciate the fine as hell men who also hit the Grammys red carpet on Monday night.
Stop, take a minute and breathe in the sexiest men of the 2016 Grammy Awards, below.
Big Sean
Big Sean may be the only man on Earth who can pull off unbuttoning that many buttons on his shirt. We are also loving his two-toned look and gold-embellished loafers.
Diplo
Men everywhere, take note: This is how you pull off man jewelry. Diplo is showing men everywhere that a lapel pin is the ONLY way to rock jewelry at a fancy event.
TJ and Jason Mizell
The pair may be there to honor their father, but they are also serving up some serious fashion inspiration with their matching hats.
The Weeknd
The Weeknd may have an unfair advantage due to his smoking hot girlfriend, but his monochromatic look is also totally working for him.
DJ Khaled
Major key alert: Houndstooth is totally back in thanks to everyone's favorite mega-producer and Snapchat celebrity.
Justin Bieber's brother
Justin Bieber would have made it if he had shaved that ridiculous mustache off his face. Thankfully, his little brother, Jaxon, is looking dapper as ever.
 John Legend
Legend, like The Weeknd, is totally winning thanks to his #1 accessory -- his stunning wife -- but his patterned jacket isn't hurting his look either.
Sam Smith
Sam Smith not only lost a few pounds, he also gained a sexy beard and a red carpet pose dripping with swagger.
These are our picks for hottest men on the red carpet, but don't be afraid to share yours with us on Twitter @EliteDaily.