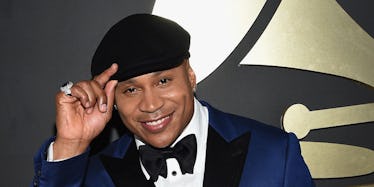 Grammys 2016: Elite Daily's Live Blog From The Media Center
Getty Images
The 58th Annual Grammy Awards premiered live on Monday, February 15 at 5 pm PST / 8 pm ET. In the hours leading up to the national telecast, 75 winners were awarded gramophones to kick off Music's Biggest Night.
Taylor Swift took home the first award, Best Pop Vocal Album, and second-to-last last award, Album Of The Year, for 1989.
During the live show, eight winners were named among a number of performances including Demi Lovato, Taylor Swift, Miguel, Alabama Shakes, Justin Bieber, Diplo, Skrillex, Pitbull, Robin Thicke, Travis Barker, Rihanna, Adele, The Weeknd, the cast of "Hamilton" on Broadway, Sam Hunt, Tori Kelly, Kendrick Lamar, Little Big Town, Carrie Underwood, Ellie Goulding, James Bay and Andra Day.
Below is the live blog from the media center on February 15.
UPDATE: President/CEO of The Recording Academy Ken Portnow said Lauryn Hill was invited by The Weeknd to sing a duet on "In The Night," and after rehearsing the performance several times, Hill ultimately did not show up.
UPDATE: President/CEO of The Recording Academy Ken Portnow addressed that glitch during Adele's highly-anticipated performance:
99.9 percent of the time, it's flawless. We rarely have technical difficulties. ... The microphone dropped in the piano [during Adele's performance]. ... In order to get to the back-up system, you have to cut off the initial system. ... It was not seamless, so you have a couple of seconds there where you did not have audio. ... From our standpoint, we wanted to make it clear that was an issue on our behalf.
UPDATE: Alabama Shakes lead singer Brittany Howard on the topic of pay-to-listen versus free music streaming:
Why shouldn't you get paid for something you work hard on?
UPDATE: Chris Stapleton said it took him 15 years to complete the track list for his breakout album, Traveller, which won Best Country Album, as well as Best Country Solo Performance for "Traveller."
UPDATE: Meghan Trainor on winning Best New Artist:
I always wanted to be The Artist, the face of the music. So, to be the Best New Artist means more to me than anything in the world.
UPDATE: Upon winning the award for Best Album of The Year for 1989, Taylor Swift took the stage to make a strong statement eluding to the recent controversy with Kanye West. She said,
I wanna say to all the young women out there, there are going to be people along the way who will try to undercut your success, or take credit for your accomplishments or your fame. But if you just focus on the work, and you don't let those people sidetrack you, someday when you get where you're going, you'll look around and you will know that it was you and the people who love you who put you there, and that will be the greatest feeling in the world.
Well, now we know what @taylorswift13 thinks of that @kanyewest line. #GRAMMYshttps://t.co/sgRdbM3iNo — Mashable News (@MashableNews) February 16, 2016
UPDATE: Lady Gaga pays tribute to David Bowie, an ethereal musical experience made possible by Intel technologies. The press release reads,
An 'animated face' was developed for Lady Gaga that enabled her to adorn a number of iconic looks all in a single performance in real time, to mind-blowing effect. Intel's highest performing processors were used throughout the development of this part of the performance, accurately tracking her facial movements while the "digital makeup" was adapted and displayed onto her instantaneously through a projector powered by a 6th Generation Intel Core processor-based desktop.
Talk about one EPIC start! @ladygaga @DavidBowieReal #GRAMMYs pic.twitter.com/4puUgfbIlg — TheWrap (@TheWrap) February 16, 2016
YES JUSTIN. #GRAMMYs pic.twitter.com/Dt1K2EAzKu — The FADER (@thefader) February 16, 2016
UPDATE: A press release from Rihanna's representation reads,
Based on Rihanna's examination after Grammy rehearsals today, Rihanna's doctor put her on vocal rest for 48 hours because she was at risk of hemorrhaging her vocal chords. The antibiotics she has been on for three days did not kill the infection adequately; therefore, she cannot perform safely.
UPDATE: Kendrick Lamar takes the stage to deliver a powerful performance and important message, "We gon' be alright."
We gon be #Alright. #GRAMMYs pic.twitter.com/NKBsQtpx6N — The FADER (@thefader) February 16, 2016
Remember when @theweeknd made you melt into a girly puddle on the floor? Same. #GRAMMYshttps://t.co/00ZpQvGQLS — Marie Claire (@marieclaire) February 16, 2016
UPDATE: Stevie Wonder teases co-presenters of Song Of The Year,
You can't read it! You can't read Braille. Nah, nah, nah, nah, nah!
He continued on a more serious note before announcing Ed Sheeran and the songwriters of "Thinking Out Loud" as the winner,
We need to make every single thing accessible to every person with a disability.
UPDATE: Rihanna cancels 2016 Grammys performance of "Kiss It Better" due to illness.
You know you abosutely nailed a tribute when Lionel Richie starts making this face #GRAMMYs pic.twitter.com/ky2DPG6Dv8 — Mic (@micnews) February 16, 2016
UPDATE: Chris Stapleton wins Best Country Album for Traveller, and starts his speech,
I'd like to thank Taylor Swift for the glitter bomb before.
UPDATE: Producer Ron Mohrhoff on shooting Best Music Video winner "Bad Blood" by Taylor Swift featuring Kendrick Lamar:
We were shooting a sequence for the ending … all of Taylor's friends were there, and … there was just this kind of magic feeling like it was a rave or something. … It was a moment where there was kind of a refrain from the process, and I just remember it being a really potent moment in the production.
UPDATE:
Best New Age Album winner Paul Avgerinos defines what "new age" music means to him:
There's a vibration in it that makes you feel peaceful, loving, kind, expansive.
Get the full list of Grammys 2016 winners here.