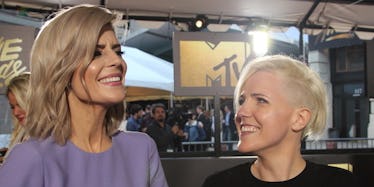 Grace Helbig And Hannah Hart On How To Make It From YouTube To Mainstream
Elite Daily / Stacey Leasca
YouTube stars Grace Helbig, of "The Grace Helbig Show," and Hannah Hart, of "My Drunk Kitchen," star in the upcoming digital film adaptation of the '70s television series "Electra Woman and Dyna Girl," set to premiere on all major digital platforms June 7.
The duo attended the 2016 MTV Movie Awards taping on Saturday, April 9, where Elite Daily had a chance to talk with them about playing superheroes and making it big from YouTube to mainstream.
In the reboot, Grace will tackle the role of Electra Woman, while Hannah plays her best friend and sidekick, Dyna Girl, who move to Los Angeles to try to make it in the superhero industry.
Grace describes the film, made in partnership with Sony and Legendary, as "superhero genre meets 'Gilmore Girls'," saying,
It's interesting female characters that are trying to figure out what it's like to be superheroes and human beings and friends at the same time.
There's an obvious connection to be made between Grace and Hannah trying to make it in the superhero industry in their fictional roles, and trying to make it in the digital entertainment industry on their respective YouTube channels, both of which have garnered massive audiences and measurable commercial success.
In what has become an overwhelmingly competitive community of YouTube personalities, I asked the women what it takes to make it mainstream and what advice they have for newcomers.
For starters, if your goal is to be discovered, your intentions aren't set on the most gratifying aspect of connecting with an audience via the worldwide YouTube platform. As Hannah says,
If your incentive is attention, you should check why you're seeking it. If you're doing something to make sure people notice you, that's probably not the best motivation. But if you're doing something from this inner inertia to create, [that's great].
To add to that "inner inertia" Hannah refers to, Grace touches on the best place to stir up genuine motivation, saying,
It's wonderful to think about the people that inspire you and to think really hard about what it is about them that inspires you -- Is it their talent? Is it their drive? Is it their hard work? What is it exactly? -- and use it as motivation to give back to something else. ... It's really wonderful when you watch somebody who still has the authenticity of enjoying what they do because it is so new and fresh and interesting to them. Really find out what you like; what you genuinely enjoy. I like watching when people are actually enjoying what they do. That's why I love Dwayne Johnson so much.
And when it comes to identifying your passion, it isn't always easy. For those who are struggling to find the career they'll be happiest to wake up to for the rest of their lives, Grace offers advice, saying,
Fail, fail a bunch. Failure actually gives you perspective of what it's like to succeed and what it's like to really enjoy something. I think we're all perfectionists and we're so afraid of failing, when really that's what actually makes you grow.
After that enlightening moment, Hannah jokes,
*Hannah gazes meaningfully off into the distance.*
Don't miss Grace and Hannah in "Electra Woman and Dyna Girl" on June 7.