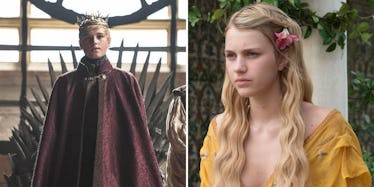 These 'GOT' Stars Are Dating In Real Life And They're Adorable (Photos)
HBO
The love bug is definitely going around on the set of "Game Of Thrones" this season.
Not too long ago, we found out that the hot body doubles who play "GOT" characters Daenerys Targaryen and Daario Naharis were taking their romance into the real world.
However, those two cast members aren't the only ones in the Seven Kingdoms who are falling for each other off screen.
It turns out 17-year-old Dean-Charles Chapman and 15-year-old Nell Tiger Free, who play Tommen and Myrcella Baratheon on the hit HBO series, have also been spending a lot of time together.
Now it appears the two teenage cast members are allegedly dating.
Yep, the love children of the twin characters, Jaime and Cersei Lannister, are actually a couple in real life.
If you ask me, that's pretty ironic. The incest lives on...
But don't worry, these young Baratheon siblings aren't actually blood related like their parents in the show. Thank goodness.
Chapman and Free haven't officially professed their love for one another yet, but they have been dropping all sorts of hints on social media indicating they are in fact a hot item in Westeros.
I wonder how Margaery feels about her man falling for another maiden.
Rumors have been going around that "Game Of Thrones" actress Nell Tiger Free, who plays Myrcella Baratheon...
...and costar Dean-Charles Chapman, who plays Tommen Baratheon, are now a couple in real life.
That's right, two "GOT" siblings are catching feelings for each other. But luckily, these guys aren't actually related like their Lannister parents on the show.
The love-struck teens have been doing all sorts of activities with each other off set...
Apple crew in Brighton @Dean_C_Chapman @IsaacBranFlakes pic.twitter.com/Jn0RP5KyS4 — free nell free (@nelltigerfree) July 19, 2015
...like going to music festivals...
At #vfest with @Dean_C_Chapman thank you #vmlouderlounge for our free VIP passes x pic.twitter.com/cEOYuiDvNq — free nell free (@nelltigerfree) August 22, 2015
...and they recently posted a photo traveling together after Myrcella was killed off the show, so they can't use filming on location as an excuse for their side-by-side, in-flight appearance.
Flying with this one @Dean_C_Chapman pic.twitter.com/VOrO88ColG — free nell free (@nelltigerfree) August 19, 2015
Chapman and Free also went on a camping trip together with costar Isaac Hempstead-Wright, who plays Bran Stark on the show.
Hilarious night, a tent was involved @Dean_C_Chapman @IsaacBranFlakes — free nell free (@nelltigerfree) August 17, 2015
But don't worry, unlike Jamie and Cersei, these young lovers didn't try to off Bran in an attempt to hide their secret romance.
Then again, maybe they should have because Bran totally gave these two up when he commented on how cute Chapman and Free looked together.
my besties @Dean_C_Chapman @nelltigerfree (aren't they so cute?) pic.twitter.com/TNRX2kvMCq — Isaac.H.Wright (@IsaacBranFlakes) July 13, 2015
In fact, I think everyone on the show knows about their relationship because other "GOT" actors have been making incest jokes on Twitter...
BANTS IS UNREAL RN. SO MUCH BANTS. INCEST BANTS. BANTS. bants. https://t.co/fhiXArz0sD — Maisie Williams (@Maisie_Williams) August 20, 2015
...and I wouldn't be surprised if Free was talking about Queen Margaery when she posted this tweet.
When you see someone flirting with bae pic.twitter.com/q0lkgFYNdK — free nell free (@nelltigerfree) July 29, 2015
If that's not enough to convince you these guys definitely have the feels for one another, Free even posted a tweet telling the world how much she missed her brother from another mother...
Miss you @Dean_C_Chapman — free nell free (@nelltigerfree) August 10, 2015
...and it didn't take long for Chapman to respond with his own love tweet. Seriously, the heart emoji says it all.
@nelltigerfree miss you toooo — Dean-Charles Chapman (@Dean_C_Chapman) August 10, 2015
Plus, the King of the Seven Kingdoms is even willing to get down on one knee to tie his girl's shoe. If that's not love, I don't know what is.
I have him on whip @Dean_C_Chapman pic.twitter.com/tk3gWG5hWH — free nell free (@nelltigerfree) July 13, 2015