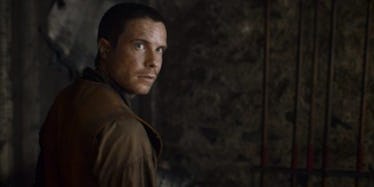 Everyone Is Comparing This 'GOT' Character To Christian Bale And It's Amazing
HBO
Game of Thrones finally gave fans the character return they were craving in Sunday's new episode, and his chic King's Landing makeover drew a ton of comparisons to none other than Batman himself! Spoiler alert: This post will discuss Season 7 Episode 5 of Game of Thrones "Eastwatch." Gendry Baratheon is back in business and teaming up with Jon Snow, and after three seasons away, he's got a whole new look as well. Tons of viewers were saying Gendry looks like Christian Bale on Game of Thrones nowadays, and it's very easy to see why!
Viewers got to see fan favorite character Gendry Baratheon again on Sunday's new episode, as Ser Davos found the young blacksmith (and secret bastard heir to the Iron Throne) working away in Flea Bottom in King's Landing while on an expedition with Tyrion Lannister. Of course, Davos was the man who, in Season 3, helped Gendry get away from the Lannister and Baratheon armies who both wanted him dead due to his claim to the throne. Back then, Davos sent Gendry off on a rowboat, but now he's back on the ground and practicing his trade, as well as having picked up a few combat skills with the hammer.
And although it's been a long time without him, it looks like we're going to be seeing a lot more of Gendry this season, now that he's teamed up with Jon Snow to capture White Walkers north of the Wall. Aside from his badass new mission, fans were taking note of Gendry's hot new makeover, and his uncanny celebrity look-alike. Pretty much everyone is in agreement the freshly-shaven Gendry is a dead riger for a young Christian Bale.
As a point of comparison, here's a shot of Christian Bale back when he was rocking the same buzz cut as Gendry in 2008.
I mean, they're practically twins! Let's just see if Gendry can bring Bale's intensity north of the Wall.