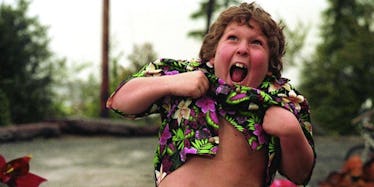 'Goonies' House Owner Shuts It Down After Too Many 'Truffle Shuffles'
Warner Bros.
Remember that house from "The Goonies" Chunk truffle shuffled his way into?
Well, the lady who owns it shut it off from the public, and it's all your fault.
The owner of the famous house said she had no problem with people visiting the residence but has gotten tired of the lack of respect people showed for the property.
jg The Goonies house. pic.twitter.com/NxLVtNNjAv — Jeff Gross (@GrossAlerts) August 2, 2015
"The Goonies" house, which was filmed over 30 years ago and still stands in its original Astoria, Oregon location, reportedly draws around 1,500 visitors every day.
Apparently, visitors looking to catch peeks of the house frequently littered the property with cigarette butts and beer bottles.
They also allegedly let their dogs urinate on the lawn.
The house is now covered in blue tarp and has several signs around the property telling visitors the location is closed to the public.
There is even a post citing the reason the house is closed off.
The sign reads,
Imagine that you buy a house, fix it up, spend money, time and love then the city of Astoria encourages 100,000's of people to come and stand in front and view it. This driveway (maintained by homeowners) sees 1,000+ people everyday. Most are kind, fun and welcome, but many are not.
The city is aware of the problem and one councilman even remarked to KGW news he was "surprised that she waited this long" to close off the house.
Littering on properties you don't own while visiting cities you don't live in makes you the worst type of awful tourist.
No more truffle shuffles for you. No! Stop looking at me with those eyes... OK, fine. One last truffle shuffle AND THAT'S IT.
Citations: Goonies house shut down after owner gets sick of people doing Truffle Shuffle on lawn (Independent)