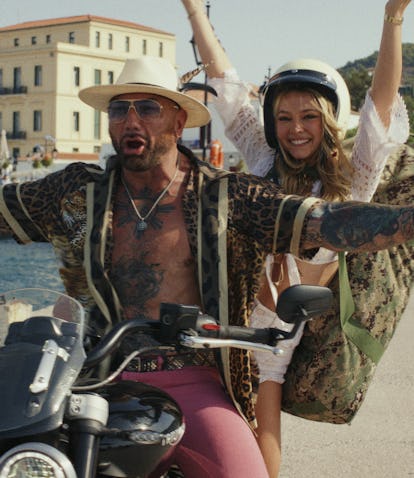 Glass Onion Was Packed With So Many Hidden Celeb Cameos
You're gonna need a rewatch.
Netflix © 2022.
Half the fun of Rian Johnson's Knives Out films are the A-list casts he assembles. His first installment was a who's who of actors having a ball working together in an ensemble. But the new sequel, Glass Onion: A Knives Out Mystery, has the bonus of added cameo appearances by celebrities not involved in the main mystery. So, let's run down everybody Johnson rounded up for the film.
Warning: Spoilers for Glass Onion: A Knives Out Mystery follow. The original Knives Out focused on the Drysdale family, those who married into it, and those who hung around hoping to cash in on inheritance. Like the first film, Glass Onion is a story set among the wealthy American elite and their hangers-on, but it's a little less blood-related. It focuses on a group of friends, one of whom made it big in the tech world. The rest, towed along in his wake to becoming a billionaire, sold their souls to live on his largess. Their high-profile connections mean the names drop faster than bodies, including references to hanging out with Jared Leto, going to Anderson Cooper's birthday bash, and eating Jeremy Renner's hot sauce.
But it's not just celebrities off camera who get brief spotlights. There are a ton of actual celebrity cameos on screen too. Here's a complete rundown.
Glass Onion: A Knives Out Mystery will stream on Netflix starting Friday, Dec. 23, 2022.