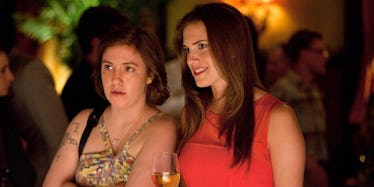 'Girls' Star Allison Williams On How Trump's Presidency Would've Changed The Show
HBO
It was only a month or so ago the Girls series finale aired on HBO, but the show already feels like it happened an entire lifetime ago.
That's partly because of how much of a cultural shift there's been in the last six months, one that, no matter what happens, isn't going to shift back anytime soon.
Allison Williams starred alongside Lena Dunham as Hannah's BFF Marnie Michaels. Marnie wasn't exactly the smartest of Hannah's friends, or the most self-aware. Nor was she one for political or cultural awareness either.
Williams, on the other hand, as the daughter of NBC's former head anchor Brian Williams, has grown up only too aware of it all.
Williams is a guest this week on the "Women Rule" podcast, which is hosted by POLITICO's editor Carrie Budoff Brown. The weekly podcast talks to women leaders around the globe and has featured such women as former GOP candidate Carly Fiorina and Democratic Senator Catherine Cortez Masto.
Williams was there to talk about how much our culture has shifted these past few months. If Girls was made today, she tells Politico, it would be a very different show.
Girls needed to live in the Obama era... I think there was a luxury to existential peace and calm that allowed the girls to live the lives they did.
She shared some of her ideas for how the characters would have been changed under a Trump administration. For starters, they would have all been far more politically aware.
Shoshana would 'probably live in a sleeping bag outside the White House.' Marnie... 'would probably run for office.'
I kinda want to quibble with that last one, but then again, Marnie was always focused on getting famous, one way or another. I suppose running for office on women's issues might have actually been a better choice than the singing career.