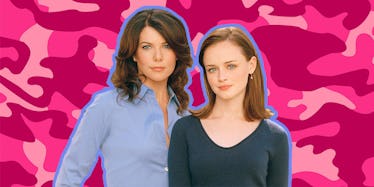 You Probably Didn't Notice This One Detail In The New 'Gilmore Girls' Teaser
Warner Bros. Television/Shutterstock
AHHHH! LORELAI AND RORY ARE BANTERING JUST LIKE THE OLD DAYS! OMG! THE THEME SONG! AHHH! THE GILMORE GIRLS ARE BACK!
That's probably the majority of what you were thinking when you saw that dope "Gilmore Girls: A Year in the Life" trailer, right?
I know that's what I was thinking, anyhow.
But it wasn't until I read this comment that I thought to go back and analyze the trailer for clues about what we can expect to happen come this November 25.
Wait... really? Neither Rory nor Lorelai has tied the knot with anyone in the 10 years since we've seen them?
People on Twitter seem to think so.
BUT WAIT... I went to investigate and found Lorelai actually IS wearing a ring!
BUT it is NOT a wedding ring because it's on her right hand, not her left. And as far as I can tell, she is not wearing a ring on her wedding finger.
So... what does this mean?
Here's what we do know: Lorelai and Luke were going to get married, but they called off the wedding. Then, in the final episode of the original series, they get back together, but it's unclear whether the wedding is back on or not.
Now, it's 10 years later. Are they together but not married? Is that ring some sort of promise ring from Luke? Did they break up?
We just don't know!
The new four-part series, "Gilmore Girls: A Year in the Life," will premiere on Netflix on November 25.
UGH, GET HERE FASTER, NOVEMBER!