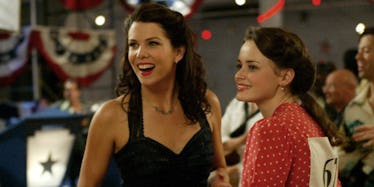 How 'Gilmore Girls' Helped Me Feel Proud Of Growing Up With A Single Mom
Warner Bros.
We all have those shows that just get us.
They speak to us on a level beyond final roses or dynamic duos solving puzzles in the pursuit of a giant cash prize (but those are great, too).
These shows tug at our hearts strings. We become invested in the characters and their lives. Their heartache is our heartache. Their laughter rumbles in the pit of our stomachs. Their tears splash on our pillows as we try to fall asleep at night.
I'm talking about "Friends," "One Tree Hill," "Grey's Anatomy," "Lost" -- the ones that have touched people's lives and caused them to experience emotional roller coasters.
These are the shows that allow us to identify with a character or plotline to the point that by the finales, we feel like an era of our lives is over.
"Gilmore Girls" was that show for me and my mom.
I grew up watching shows with my mom -- everything from "The Andy Griffith Show" to "Will & Grace" -- but "Gilmore Girls" came into our lives at a time we didn't know we needed it most and buried itself in our hearts.
It became an addiction we simply couldn't (nor did we want to) shake. We immediately identified with the characters of Stars Hollow.
My mom is such a Lorelai. She's the first one to crack a joke. She's quick-witted and always on her toes. She's lighthearted and brightens any room she enters.
She's the life of the party. You miss her when she's gone. She's stubborn as hell, independent and strong. She loves fiercely with all her heart.
She's also been through some shit, but came out on the other side better for it.
I'm a Rory. I'm shy and soft spoken upon first introduction. I'm studious and excelled in school. I'm a worrywart when it comes to, well, most things.
You'll rarely find me without a book in my bag or purse. I sometimes prefer being curled up with a good book rather than going out and socializing.
I'm sensitive. Like my mom, I love wholeheartedly and deeply. I'm driven and focused on my goals. I'm kindhearted and genuine.
I'm easy to get along with no matter the setting or group of people present.
Together, we're the Gilmore Girls.
It wasn't a teen pregnancy that forged our relationship, but regardless of the details, it's been me and my mom since I was 4.
We've been all each other ever needed, our own special family. Everything we've accomplished, we've done so together.
Throughout the show, there were moments that particularly resonated with us -- like when Rory gets into the prestigious Chilton Academy.
Lorelai has tremendous pride for her daughter in that moment while also wondering how she's going to manage to financially swing a private school education.
As a single mother who received zero child support, my mom faced some of the same struggles putting me through private school.
Thankfully, like Rory, I have a very generous grandmother and was afforded the education I received because of her support as well as my mom's.
When Rory deals with her first breakup from Dean, she recovers a bit too quickly. She tries to brush it off by busying herself with menial tasks, but all the while, her mom knows what's really going on.
My mom's always been able to read me like this, especially since I'm often guilty of the same crime of bottling my emotions.
When Rory breaks down and says, "I'm ready to wallow now," her mom is immediately there for her, no questions asked.
As Rory grew up on the television screen in front of me, my mom watched me grow up right in front of her. A moment that still brings tears to my eyes any time I watch it is Rory's high school graduation.
She's standing at the podium, giving her valedictorian speech, and says,
But my ultimate inspiration comes from my best friend, the dazzling woman from whom I received my name and my life's blood, Lorelai Gilmore. My mother never gave me any idea that I couldn't do whatever I wanted to do or be whomever I wanted to be. She filled our house with love and fun and books and music, unflagging in her efforts to give me role models from Jane Austen to Eudora Welty to Patty Smith. As she guided me through these incredible 18 years, I don't know if she ever realized the person I most wanted to be was her. Thank you, mom. You are my guidepost for everything.
Like I said, tears.
As the camera pans to Lorelai in the audience, trying to smile through her welled-up eyes, you immediately feel not only the love between these two, but such pride from a mother looking upon her accomplished daughter. They share a mutual admiration for each other.
While I wasn't given the opportunity to speak at my high school graduation, Rory's sentiment is one I hope my mom realizes every day.
She's my best friend. I'm fortunate she gave me the gift of life -- although I wish she would have given me her name, too (because it's pretty kickass).
She never stunted my growth nor my imagination, filling my childhood home with books, old movies, classic music and more love than one could imagine.
She's guided me through now 23 years of life, showed me what I'm capable of and pushed me to be the best version of myself every single day.
But like Rory said, little does she know the person I aspire to be is the one she sees when she looks in the mirror every day.
Thank you "Gilmore Girls," for giving me a show that beautifully mimicked my own life and my alternative family. Thank you for showing the world the strength of a single mother.
Thank you for showing a parent who knows how to respect and love her daughter even if she might be the total opposite of her. Thank you for hitting my funny bone while also making me wipe tears from my cheeks.
Thank you for growing old with me but reminding me I'm never too old to be mom's little girl. Thank you.
A version of this post was previously published on the author's personal blog.