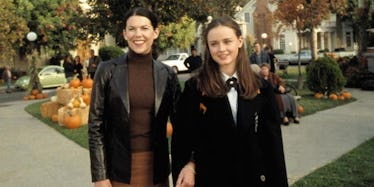 Someone Leaked Photos From The 'Gilmore Girls' Set And It's Everything You Hoped For
Warner Bros. Television
When the rumors surfaced in October that Netflix may bring back "Gilmore Girls," aka the most beloved mother-daughter duo in television history, fans around the world let out a collective sigh of relief.
Knowing Rory and Lorelai may soon be back in our lives (or, at least, in our living rooms) seemed to be enough, but now, seeing what appears to be photos of the new set made me realize just how badly I want this reboot to happen and just how badly I need it to be as good as the original.
In new photos, allegedly leaked from what will be the set of "Gilmore Girls," fans can see the entire gang is making a comeback in the hometown we all know and love: Stars Hollow.
Apparently, Miss Patty's studio is getting a paint job.
Kim's Antiques will still be filled with lots of random goodies.
Facebook fan page 'Gilmore Girls Forever' even posted this photo of props for "Lizzy and Luke's house."
Posted by Gilmore Girls Forever on Saturday, January 2, 2016
Warner Bros, the production company behind the show, declined to comment to E! News regarding both the authenticity of these photos and if the show is actually going to return to TV.
Here's hoping the rumors are true, and we will be reunited with all of Rory and Lorelai's hunky boyfriends soon.
Citations: Is Gilmore Girls Already Resurrecting the Stars Hollow Set for the Revival? (E! News)