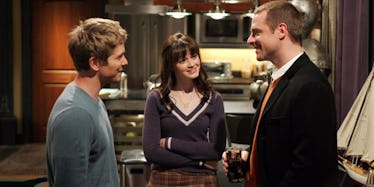 'Gilmore Girls' Modeled Logan After Rory's Dad, But They're Def Dating Anyway
Netflix
It's about to get Freudian slippery up in here!
"Gilmore Girls: A Year in the Life" is arriving this week, and speaking as someone who has already witnessed the glory that is "Winter" at the red carpet premiere this weekend, I can safely say you'll be mightily impressed with the revival.
In a recent interview, "Gilmore Girls" creator Amy Sherman-Palladino commented on the origin of Logan's character and how he was supposed to be a parallel to Rory's father Christopher.
She said,
We wanted Rory to date her father. Every girl has a father issue, and Logan was Christopher. Logan was charming, smart, and not quite the dependable soul that you need. Or, at that time, was not the great dependable soul.
As if you still needed a reason to be on Team Jess or Team Dean over Team Logan...
They wanted Rory to date her father? When did Stars Hollow turn into the set of a Greek tragedy?!
*Stabs eyes out*
Luckily for all of you, I can still type without the use of my eyes.
The show might also get weird thanks to this hypothetical family tree, but I never thought Rory would actively try and date someone similar to her father (that deadbeat!).
Rory Gilmore herself AKA Alexis Bledel had this to say about their rather carefree Electra-complex-of-a-romance:
It's a relationship like the one Lorelai and Christopher had in their youth. They do reckless things together. It's fun, but on this lavish scale.
Will someone please just get Rory the eff away from Logan? Christopher was not good news.
Meanwhile, Matt Czuchry, AKA Logan, was never privy to the fact that his character was based on another "Gilmore Girls" staple.
He said,
I saw this character as somebody who is going to push Rory to be the best that she could possibly be in her personal and her professional life, and to live life in this kind of carpe diem way. For example, there was an episode called 'You Jump, I Jump, Jack,' where we saw the first glimpse of who Logan was and how he tried to push Rory. That's always the way that I came at it.
Meanwhile, for those of you wanting Jess to make a triumphant return and sweep Rory off her feet, I have some moderately bad news.
The costume designer for the show Brenda Maben accidentally let out the following reveal about Rory's future romantic prospect with the original three (Dean, Jess and Logan):
She's traveled the world and she's been hanging out with Logan a lot. He's pretty worldly. He lives in England.
Rory has been hanging out with Logan a lot? Like platonically? Like as in no sexy time seshes?
*Prays for a million years*
While I've already seen the premiere of "Winter" and could confirm or deny this, I won't. You'll just have to wait until 12:00 am on November 25 to find out for yourself.
Citations: Gilmore Girls creator talks Logan: 'We wanted Rory to date her father' (Entertainment Weekly)