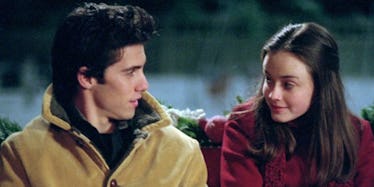 Is Your Favorite 'Gilmore Girls' Character Coming Back For The Revival?
The CW
Making all of my 16-year-old self's dreams come true, Rory Gilmore and Jess Mariano will almost definitely be getting a reunion in the "Gilmore Girls" revival. YESSSSS!!!!
Oh, Dean and Logan will be there, too, I guess. That's cool.
It's confirmed all three actors who played Rory's boyfriends, Milo Ventimiglia (Jess), Jared Padalecki (Dean) and Matt Czuchry (Logan), will return for the four-episode Netflix miniseries, tentatively titled "Gilmore Girls: Seasons."
It's been nearly a decade now since these characters were on TV, so if you're curious about how the fellas aged, take a look.
Ah yes, do you hear that? That's the sound of long-dormant relationship wars rekindling their flames. Are you guys Team Jess or Team Logan? Are there any diehards out there still clinging to Team Dean? Whom will Rory choose? Will she even choose anyone?
It's a tough call. By now, Dean is hopefully back with Lindsay, Jess is probably a famous author and Logan is probably exactly the same, to be honest.
Of course, the question we're all (read: no one is) asking is "WHAT ABOUT MARTY?"
Prediction: Marty shows up in the last five minutes of the revival finale and proposes to Rory. Rory says "no," and goes off to campaign for Hillary Clinton instead. That's a free idea for you, Amy Sherman-Palladino!
Honestly, as long as Lorelai and Luke stay happy, everything will be right with the world.
Citations: Gilmore Girls Revival: Here's Everyone Who's Returning (Refresh for Latest) (TVLine)