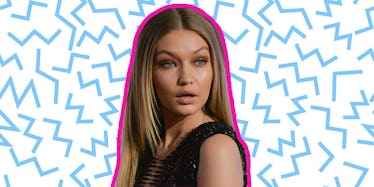 Gigi Hadid Just Showed Off Her Naked Body In A Very Creative Way
REX/Shutterstock
Gigi Hadid just showed off her naked body in the best way possible.
The 21-year-old model is confident in her skin and not afraid to flaunt it. This past week, Gigi rocked a t-shirt that actually featured her bare torso on the front.
If that confuses you, look at the pic below. Gigi Hadid is literally wearing a t-shirt of naked Gigi Hadid. SHE IS MY HERO.
Damn, Gigi. Are you selling these on Etsy? I want to wear Gigi's naked torso on my torso, too!
Her BFF Kendall Jenner also wore Gigi's body as a t-shirt for a LOVE magazine shoot a while back. That's friendship goals, yo.
Marc Jacobs actually designed the top over a year ago, and Kendall was able to show it off while raising money for the Designers Against AIDS fund.
Those dogs are definitely a fan of the topless top. I can see it in their eyes.
Gigi Hadid has never been afraid to strip down in front of the camera, so it's not too surprising the model has a shirt of her bare bod.
Hopefully these shirts go on sale because I think they're artsy AF.
Keep killin' it, Gigi.
Citations: Gigi Hadid Wearing Nude Body On T-Shirt (Teen Vogue)