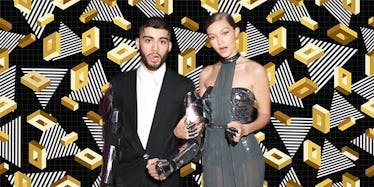 This One Thing Apparently Saved Gigi Hadid And Zayn Malik's Relationship
REX/Shutterstock
Some of us are still gripping tightly to the theory Zayn Malik and Gigi Hadid are a sham couple created by Hollywood to maintain appearances and line pockets.
Others look to the pair as a beacon of hope, proving with each sexy photo shoot love can exist even if you're very rich and beautiful and have every advantage in life.
Either way, Zayn and Gigi claim to have an ironclad relationship, and sources say the 21-year-old model's commitment to supporting her boyf through bouts of anxiety is the secret to their love.
A source told E! News,
Things are back to normal with them. They got through a rough patch that Zayn was facing personally and it started to put a dark cloud on their relationship. Gigi was there for him when he needed her the most and that brought them closer than ever.
The 23-year-old solo artist canceled his appearance at London's Capital Summertime Ball, telling fans he'd "suffered the worst anxiety of [his] career" and would not be able to perform.
Since then, he's kept a relatively low profile.
The source added,
They have been spending some alone time together lately without the media seeing them. Zayn is feeling better with the help of Gigi and many other close people in his life. It's a work in progress for him.
Whether your relationship is the real thing or just for show, support and communication still appear to be the keys to a functional union.
Citations: E! News