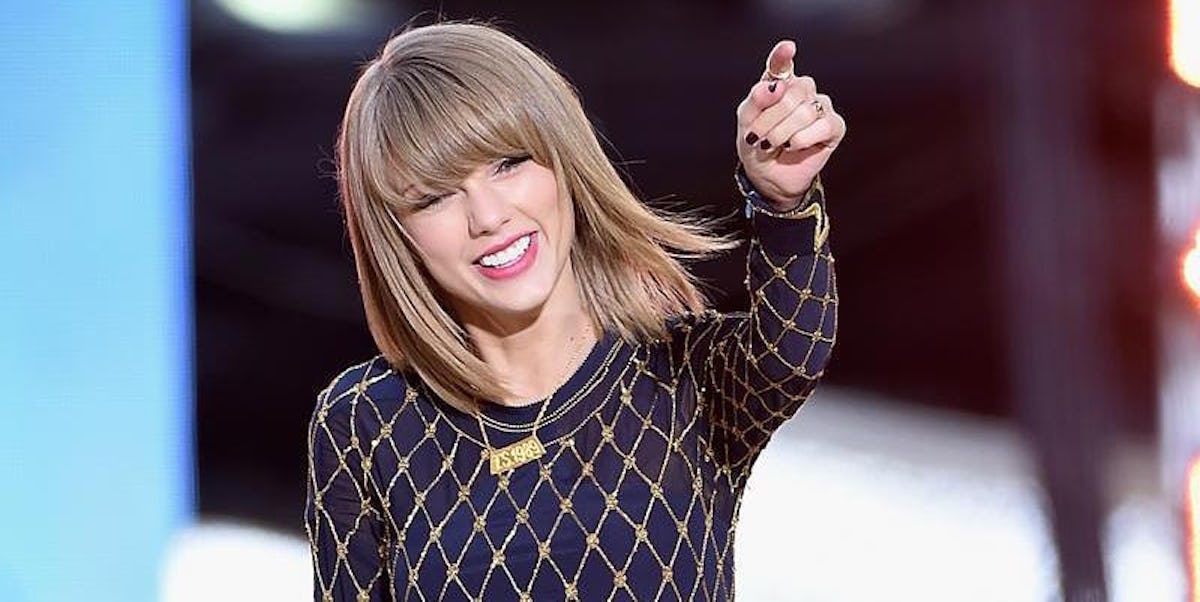 11 Gifts For That Friend Who's Way Too Obsessed With Taylor Swift
Getty Images
It's that time of year again.
The snow is falling, the lights are twinkling, you're spending time with your family and Taylor Swift's Christmas album is playing softly in the background.
At least, it often is in every die-hard Swift fan's house.
If you have someone who loves Taylor Swift this much in your life, the only reasonable thing to do this holiday season would be to gift him or her with anything having to do with the country songstress turned pop singer.
Thankfully for all the people who have one such person (or multiple people) in their lives like this, I have laid out just some of the many potential gifts you can wrap up and give to him or her this winter.
1. T-Swift Guitar Ornament
Of course, every T-Swizzle fan wants to deck out his or her Christmas tree with Swift-inspired décor, and what better way to do so than with this amazing ornament?
Is there anything more festive?
Plus, it also plays a snippet of her song "Long Live."
I got this fun little gift a few years back, and it still hangs on my tree every year.
2. Hand-Crafted Ornament
We can't forget about adding a handmade touch.
I found this amazing wood burning artist through Instagram and had a field day looking through her items.
Of course, as a Taylor Swift fan, this one caught my eye.
This is the perfect ornament for the kitschy, Taylor Swift-loving person in your life.
3. Perfumes
For the fan in your life who loves smelling nice nearly as much as he or she loves listening to Taylor's albums, why not gift one of her perfumes?
Personally, I own the Wonderstruck scent (purchased for me by my brother for – you guessed it – Christmas), and I absolutely adore the smell.
She also has three other scents available now: Enchanted, Taylor and Incredible Things.
Buy them here:
Wonderstruck, $32, Amazon 
Incredible Things, $15, Overstock
4. Hardcopies Of Taylor Swift's Albums
In a world where digital copies of music are the norm, it's nice to own a physical copy of a CD.
That being said, it's also wonderful owning every single copy as an LP, if you own a record player.
Personally, I have nearly all Taylor's albums on both CD and LP, and I'm only waiting for her debut album to come out on record to complete my collection.
As you can imagine, my fingers are crossed to unwrap a copy of it this holiday season.
These can be found in basically any music store.
As for the LPs, 1989 is fairly easy to find in any record store, but the previous ones are a little more difficult.
I'd suggest scouring the Internet for a good copy, or even calling some local record stores to see if they carry them.
5. The Exact Same Sweater Worn On The Cover Of 1989 
Long Sleeve Top, $15, Taylor Swift Store 
Purchasable right from Taylor Swift's website is a replica of the sweater worn in her cover art for the album 1989.
What fan wouldn't adore listening to the album on repeat while wearing this new sweater?
Forget ugly Christmas sweaters; your friend can wear this during the holiday season and into the new year.
6. A "22"-Inspired Shirt
"22" T-shirt, $12, Amazon 
Just like the T-shirt Swift sports in her music video for "22," your friend can now own his or her very own replica.
Just throw in a pair of heart-shaped sunglasses and a derby hat, and the ensemble will be set.
This could be the perfect outfit to wear to Taylor's concert on her next tour.
7. Taylor Swift Keds
Or if your friend is more into shoes, then there is a plethora of Keds available online.
Some are picked by Taylor, and others are part of her own collection.
With so many styles available, you're bound to find something to gift your favorite Swift fan this season.
8. Printable Lyrics
Anyone who lives and breathes Taylor's lyrics will definitely appreciate having these words mounted up on the wall to see every day.
From the well-known, "My heart is yours" to the less popular, "This life is sweeter than fiction," Taylor-inspired lyrics abound.
Just choose your quote from what is available, print it off and frame it.
Voilà! A perfect gift.
9. A Taylor Swift Baby Guitar (Prices Vary)
Taylor Gutair, $329, Taylor 
This is the perfect present to accompany your friend's covers of Taylor's songs.
Or, your friend can use it to make his or her own music (obviously inspired by Ms. Swift).
Your friend will love this gift, hands down.
10. Taylor Swift Guitar Picks
You have the guitar, and now you need some picks to accompany it.
On second thought, you honestly don't even need to buy the Taylor Swift Baby guitar because these would be awesome to have, regardless.
11. A Scottish Fold Kitten
Only for the most avid of Taylor Swift fans would a Scottish Fold kitten be the ideal gift.
They're adorable, they're fluffy and they have the cutest little folded ears!
How are you not already swooning?
Not to mention, they are also the breed of Swift's two cats, Meredith Grey and Olivia Benson.
Just make sure that a pet is a commitment your recipient is ready to handle.
Pets require a whole lot of love, time and money, but they're worth it all.
As you can imagine, you would have to contact a breeder for one of these cuties, but you can always pop into your local Humane Society to see if it has any available.
So what are you waiting for?
Go stock up on these Taylor Swift-inspired gifts!
The holidays are creeping up with each passing hour.
Just think of your BFF's face when he or she unwraps any of these unique gifts.