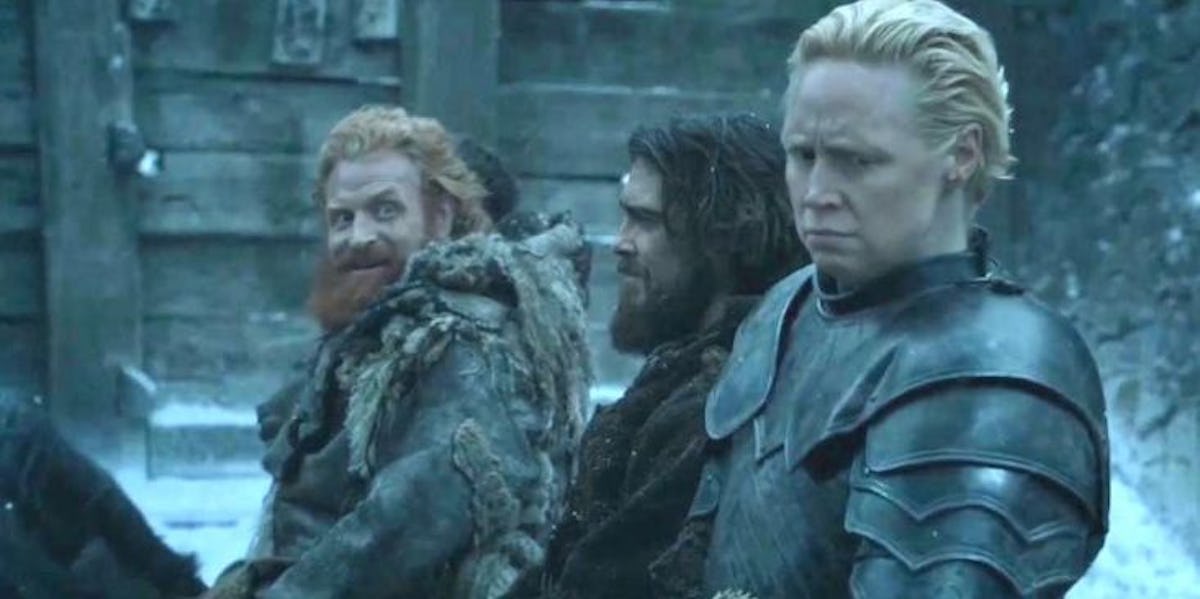 'GOT's Tormund Hints At More Briemund In Season 7, Whatever Gwendolyn Christie Says
HBO
Don't give up hope just yet, Briemund shippers. If the pairing of the Giantsbane and the Maid of Tarth is your OTP, Game of Thrones actor Kristofer Hivju is here to give you hope.
Hivju, who plays enormous ginger Wildling Tormund Giantsbane, doesn't agree with Brienne actress Gwendoline Christie that their characters' one-sided (and quasi-creepy) star-crossed romance is never to be, according to Entertainment Weekly. "Tormund definitely thinks he has a shot," he said. "It's the way the Wildlings are. The women are so strong. They're equals."
BRB, pausing to develop my alternate-universe spinoff fantasy in which Brienne and Tormund band together to lead a feminist revolution south of the Wall.
"Do you think she likes him?" she asked rhetorically. Well, probably not.
Doesn't seem to have much dampened Tormund's enthusiasm, though.
Christie herself teased shippers with hope. "That relationship keeps evolving," she said.
We'll get to see any developments early, too — Entertainment Weekly reports that the awkward non-romance will be at least referenced in this Sunday's season premiere.
Though even if that ship does sail, it could be rocky.
The rumors of discord between Sansa Stark and Jon Snow in the upcoming season may prove divisive for the two.
Brienne of Tarth is sworn to Sansa, while Tormund is behind Jon. What could happen if those allegiances are tested? Like Game of Thrones doesn't have enough drama.
And of course, you have to remember the unofficial motto of Game of Thrones fans — "don't get attached."
Showrunners David Benioff and Dan Weiss joked that the relationship will mean tragedy for one or both of the pair. Benioff said,
It inspires us because we need to kill one of them now because there can't be a happy ending or any romantic connection on the show. But we're not going to tell you which one.
OK then.
Game of Thrones Season 7 debuts July 16 on HBO at 9 p.m. ET.