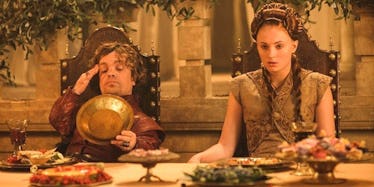 There's A 'Game Of Thrones' Pop-Up Restaurant Opening In London
Game Of Thrones/HBO
"Game of Thrones" doesn't return until April, but here's a little something to hold you over until then.
HBO is opening a "Game of Thrones"-themed pop-up restaurant in London this month.
The restaurant will be called All Men Must Dine and will only be open for three days in the Andaz Liverpool Street Hotel. But, if you can manage to get a seat, the meal will be well worth it.
According to the event's website,
Throughout the evening, guests will sample the finest delicacies Westeros has to offer over multiple courses, accompanied by a carefully selected drinks menu of cocktails fit for a King.
The meal promises to be fairly meat-heavy, as one would expect.
For instance, one dish is called The Lies of Tyrion Lannister and his Proclaimed Innocence, and it includes poached veal tongue with beetroot, horseradish and Oldtown mustard.
In order to be a guest at the restaurant, prospective diners will be asked to answer the question,
Who is your favorite 'Game of Thrones' character, and what would you cook to win their heart?
The best answers will be selected, and those deemed worthy will be awarded seats at a banquet table.
The pop-up restaurant will be open from February 13 through February 15. Hopefully, no one gets poisoned or slaughtered while feasting there.
Citations: Game of Thrones pop up restaurant coming to London (Mashable )