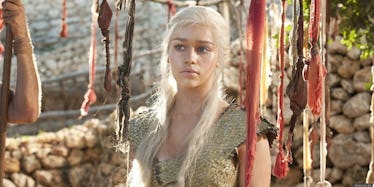 The Original Pitch For 'Game Of Thrones' Leaked And It's A Must-Read
Game Of Thrones/HBO
George R.R. Martin's "A Song of Ice and Fire" and the ensuing television show, "Game of Thrones," are big deals these days.
But, there was a time before they existed and before Martin even put pen to paper on the first installment of his fantasy series.
Back in 1993, Martin just started to pitch ideas for "A Song of Ice and Fire" to his agent.
To do that, he sent a letter to said agent detailing the characters and plot structure of the first novel in the series, titled "Game of Thrones."
The initial plan was for the series to be a trilogy, and the plot and the characters were very different than they are today. We now know this because that letter leaked onto Twitter recently.
In the letter, Martin wrote the main characters in the series would be Tyrion Lannister, Daenerys Targaryen, Arya Stark, Bran Stark and Jon Snow.
He said a 9-year-old Arya would be at the center of a love triangle between her half-brother, Jon Snow, and Tyrion.
The letter also detailed the machinations of the major houses of Westeros. Martin wrote,
The enmity between the great houses of Lannister and Stark [will play] out in a cycle of plot, counterplot, ambition, murder, and revenge, with the iron throne of the Seven Kingdoms as the ultimate prize.
Martin also planned to kill off major characters from the get-go. He wrote,
The cast will not always remain the same. Old characters will die, and new ones will be introduced. Some of the fatalities will include sympathetic. . . characters. I want the reader to feel that no one is ever completely safe, not even the characters who seem to be the heroes. The suspense always ratchets up a notch when you know that any character can die at any time.
You can see the pitch letter in full below.
There is a portion blacked out, presumably to protect us all from potential spoilers.
Citations: George RR Martins Original Game of Thrones Pitch Letter Leaks (Rolling Stone)