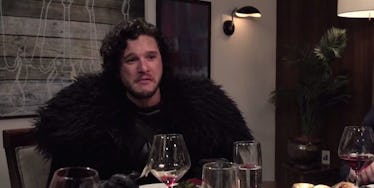 Jon Snow From 'Game Of Thrones' Is Actually A Terrible Dinner Guest (Video)
Jon Snow may be one of the more intriguing characters on "Game of Thrones," but he'd make for a crap dinner guest.
This hilarious "GoT"-themed sketch from Seth Meyers proves that much. As you can tell from this bit, Jon Snow isn't exactly the most upbeat guy or the best conversationalist around.
Actually, Jon Snow knows nothing about polite dinner conversation, and his ignorance and dourness make for a pretty funny sketch.
Check it out up top, and prepare yourself for the return of "Game of Thrones" on April 12.