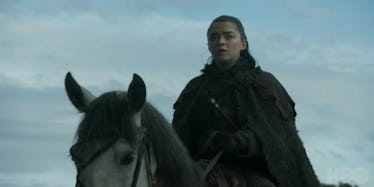 People Are Comparing 'Game Of Thrones' Season 7 Opening To The Red Wedding
HBO
This post contains spoilers from "Game Of Thrones" Season 7, Episode 1. 
Game of Thrones doesn't do the "cold open" trick very often, but when they do it's usually in the premiere episode of the season. Four out of the five cold opens the show has done in their history have been in the opening episode. (The fifth was last year, in Episode 7 with the Hound's return.)
But while some of those cold opens have been remarkable for reasons of their own (Think, the Cersei flashback in Season 5, or the dramatic reforging of Ice in Season 4), none have ever been quite as satisfying, or as laugh out loud, as the one we got tonight.
The fact that Game of Thrones was doing a cold open was spoiled in a few places ahead of this evening's broadcast. But thankfully, those who talked about it kept what exactly was happening in it quiet -- only that fans would love it.
That's for the best because if they had mentioned any of the details, including who was involved in the scene, it would have given the whole thing away.
As it was, eagle-eyed fans had spotted David Bradley in Belfast during filming last year, sparking rumors that perhaps we might, in fact, be getting a scene with the now deceased Walder Frey. But what? Would it be like Charles Dance, in the Season 5 opening, with Tywin Lannister lying in state? Would it be a flashback sequence?
Or would we get extra-extra lucky and see Arya Stark take revenge for her family, and for the entire Red Wedding in Season 3, Episode 9, by wearing the face of one of her most hated enemies on the list?
As it turned out, we indeed got extra-extra lucky.
One question though, and this is one I hope our readers will speculate upon: This is now the second time we've seen Arya abuse her Faceless Men talents for her own ends in Westeros. This can't be good for the reputation of the House of Black and White LLC. (Think of the Yelp reviews! "Faceless Man revealed himself before clients all died! Utterly unprofessional. 1/10, will not use again.")
How many times can she get away with this before someone sends a cease-and-desist letter?
Game of Thrones Season 7's first episode is streaming now on HBO.com.