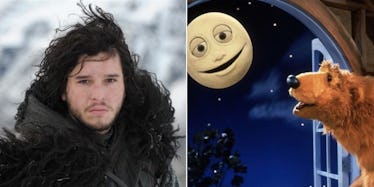 The 'GOT' And 'Bear In The Big Blue House' Mashup Is Disturbingly Perfect
HBO/Disney
"Bear in the Big Blue House" was a children's television show about a talking bear who teaches children important life lessons.
"Game of Thrones" is a violent and sexual meditation on power and family. These two shows have no business being mentioned in the same post, and yet, here we are.
The people over at UNILAD mashed up a goodbye song from "Bear in the Big Blue House" with clips of some of the more gruesome deaths in "Game of Thrones."
Surprisingly (and disturbingly), they work well together.
This goes without saying, but this mashup is not for children. Give it a peek up above.