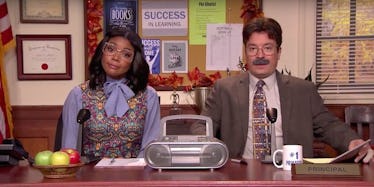 Gabrielle Union And Jimmy Fallon Hilariously Sing Morning Announcements (Video)
In just 15 short(ish) years, Gabrielle Union went from cheerleading captain to vice principal.
In a sketch from Monday's episode of "The Tonight Show Starring Jimmy Fallon," the actress joins the nerdy principal, host Jimmy Fallon, to make a few musical morning announcements for Saugerties High School.
In one especially clever cover of Rihanna's "Bitch Better Have My Money," Union beckons fictional student Mitchell Henderson to pay his outstanding debt for an upcoming field trip, singing,
Mitch better have my money, if he wants to come with us. Mitch better have my money, or he won't get on that bus.
Little does the rapping VP realize, Mitch's single mom probably just got laid off so, sorry, field trips aren't exactly a priority right now.
Way to rub it in, though.
Citations: Gabrielle Union Does Morning Announcements With Jimmy Fallon: Watch the Hilarious Skit (Us Magazine)