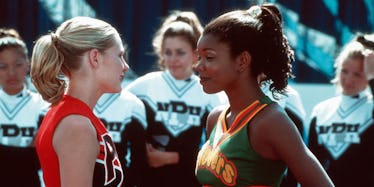 This Incredible 'Bring It On' Reunion Will Make You Seriously Nostalgic (Photo)
Universal Pictures
Still wanted, still hot, still everything you're not: The cast of "Bring It On" came together for Entertainment Weekly's "Reunions" issue, and they look just as good as they did 15 years ago.
Cheer-taters Eliza Dushku, Gabrielle Union and captain Kirsten Dunst, along with Dunst's on-screen love interest, Jesse Bradford, chatted about hookups (YAH), arrests (OH YAH) and how Dushku's audition for the film was essentially the same as her character's tryout for the Toros.
She recalled,
I was a tomboy growing up and kind of an anti-cheerleader in real life. But I begrudgingly showed up for the audition, probably a little hungover. There were girls doing flips in the lobby, and I kind of cringed and dodged them and went in, and I guess [director Peyton Reed] just found that hilarious. He asked me if I could do a split, so I got onto the ground into a split, and that was it.
Bradford also shared much in common with his character, Cliff Pantone. He claimed,
Let the record state that I bought that Clash T-shirt off of eBay, because I was worried that somebody was going to try to put me in a reproduction that was too big or whatever… But Cliff is probably the most accurate version of the real me that I've ever portrayed on camera.
The actor posted a photo to Instagram of him and on-screen lovah Kirsten Dunst, proving they still make an enviable couple.
Though an original cast follow-up film will probably never occur, it is truly heartwarming to know there are at least two true-to-film characters from history's greatest cheer movie walking the face of this earth, jumping, scowling and carrying on the cheerocracy.
Citations: Bring It On cast gets together for spirited EW reunion (Entertainment Weekly)