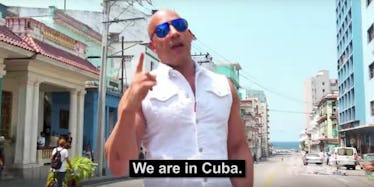 'Fast And Furious 8' Just Became The First Hollywood Movie To Film In Cuba
YouTube
Despite the unfortunate loss of actor and franchise frontman Paul Walker, the "Fast & Furious" series will live on.
The latest installment of the action-packed, high-octane film series is currently filming in Cuba. If you know anything about Cuba, you know that major Hollywood film productions weren't allowed to film on the Communist-ruled island -- until now, that is.
"Fast & Furious 8," which is set to feature a handful of original cast members including Vin Diesel, Lucas Black, Michelle Rodriguez and Ludacris, is currently filming in Havana with director Felix Gary Gray.
In a recent video uploaded to YouTube by Fast Family, we're given a sneak peek of the set of "Furious 8" as the franchise makes history on Cuban soil for the very first time. The behind-the-scenes footage has since been taken down for copyright infringement, but you can check out the video above for Collider's inside scoop on the film, slated to hit theaters April 14, 2017.
Keep in mind, producers could have simply chosen to recreate a computer-generated backdrop of Havana and call it a day. Instead, they took the crew directly to the source, proving the next installment of "Fast & Furious" will be one to remember!
Citations: Furious 8 Is Filming In Cuba Right Now, Here's Our First Look (CarBuzz)