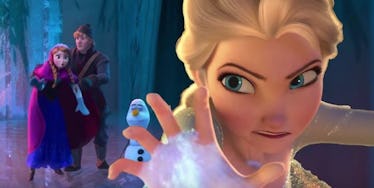 'Frozen' Would Be An Entirely Different Movie If Elsa Was The Villain (Video)
NO! NO! NO! STOP SCREWING WITH MY MIND, ALTERNATE MOVIE REALITY YOUTUBE VIDEOS.
BloodBlitz Comedy is quickly becoming my sworn mortal enemy.
When it uploaded a video about how Harry Potter could have easily been the bad guy of the wizarding world, I thought,
OK, cute. Always nice to get a fresh take once in awhile.
Then, it made a video about how Joffrey was the hero of "Game of Thrones," and I thought,
Haha, you guyz! That's funny. Seriously, very funny. You can stop doing this thing now, but like, it was funny. I'm not angry.
Now, it's back with a new a video that 100 percent crosses the line by showing Elsa as the villain in "Frozen."
This recut trailer made me angrily take off my earrings and high heel shoes before yelling,
HOLD ME BACK, DEBRA! HOLD ME THE EFF BACK! I'M GONNA KILL THESE MOVIE-RUINING-iMOVIE-DEVIANT BUTTHOLES!! HOW DARE THEY! ELSA IS A GODDAMN SAINT!
Watch this video, but do it in a room with nothing expensive or easily breakable because you WILL want to chuck something at a wall.
Citations: Here's What Frozen Would Look Like If Elsa Was The Villain (Time)